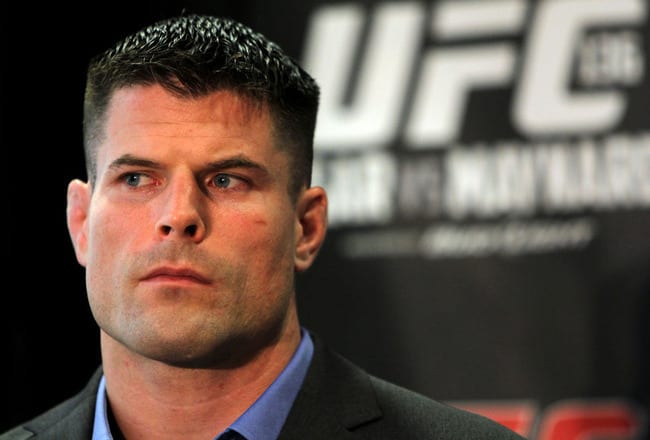 When Georges St-Pierre returned from a four year absence to win his second world title, his ranking in terms of pound for pound greatness either went up or became cemented, depending on your previous estimation.
But while many were impressed with his victory over Michael Bisping, according to former UFC fighter, analyst and commentator Brian Stann, few realise just how difficult it can be to return from such a long time away. All in all, something which makes St-Pierre's victory even more spectacular.
"That's a tremendous layoff," Stann said recently, speaking on the Anik and Florian Podcast. "There is a huge difference, I don't care what kind of shape you get into in the gym, in training camp. I don't care if you measure everything, your resting heart rate, I don't care. it's all different when you're actually in that Octagon in fight night.
"The bright lights, the anxiety, the nerves. GSP, he suffers from some of the worst anxiety I've ever seen in this sport, which makes what he did even more special.
"I thought he was fantastic, I thought he was technically very good. He did obviously slow down, but it was expected. It looked like Michael Bisping was taking over that fight, but GSP found a way to do it. It's not like he did anything that was completely different from what we've seen before in his career, but the fact that he was able to come and fight at that level, after four years on the bench is absolutely outstanding to me."
Because of the victory, Stann — who has trained with Jon Jones in the past — now has no reservations in labelling St-Pierre the greatest mixed martial artist of all time.
"I've long thought he was the best to ever do it. I've transitioned recently to Demetrious Johnson," St-Pierre said. "Now, with GSP coming back and doing that? I've got to say that GSP is the best ever. When you look at who he's beaten, how long he has been dominant, and to come back now at this age, four years on the bench, and win a belt a weight class above? That's a big jump. That's a 15-pound difference. This isn't boxing, where the weight class is five-pound higher, he went from fighting guys walking around 190, 185, to now fighting a guy who walks around at 225 in Michael Bisping. That's a tremendous jump."
Comments
comments