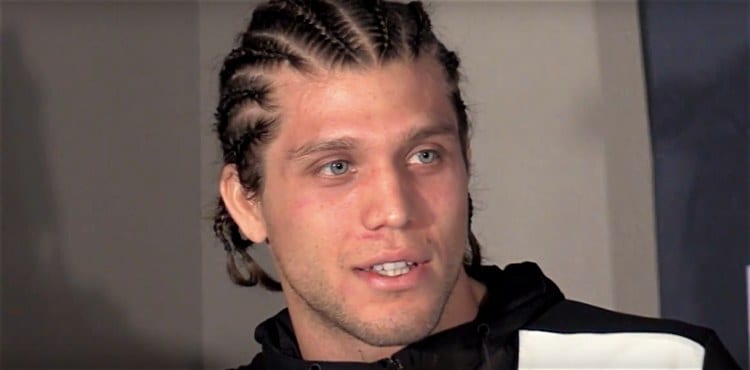 When Brian Ortega decided not to fight at UFC 226 after UFC featherweight champion Max Holloway was unable to compete, it's likely he had no idea how things would turn out.
Most ideally, the promotion would reschedule the anticipated 145-pound clash, and Ortega would meet Holloway later this year to settle who's who in the featherweight weight class. Instead, as seems to be the standard these days, the UFC quickly looked to replace Holloway in the match-up, and keep Ortega on the card.
That was a scenario that Ortega — who himself usurped Frankie Edgar's title shot in a similar situation — was unwilling to agree to. Evidently, that decision was something UFC president Dana White was unhappy with.
"We talked to Dana and he was pretty pissed off," Ortega explained to Brendan Schaub on Schaub's podcast (H/T MMAFighting). "He was just in a bad mood, a fight fell through, DC just fell, and then he walks in this meeting. So I tell him, 'Hey, I'm not gonna fight.' I'm holding my ground. 'Listen, with all due respect, I stepped in and fought [Thiago] Tavares on two weeks' notice, I stepped in and I fought Frankie on three weeks' notice, and I stepped in and tried to fight Khabib [Nurmagomedov] on six days' notice. It's not a scared issued, it's not that I'm not down for the company. I finished everyone you told me to, every single person you put in front of me, I took their heads off and, like Conor [McGregor] says, I put them on your fucking doorstep. That earned me a title shot and now that I'm here, why go anywhere else besides forward?"
According to Ortega, White wanted him to accept a fight with either Frankie Edgar or Jeremy Stephens, potentially with an interim title on the line. Interim or no interim, Ortega simply felt the options weren't attractive enough.
"The offer was Frankie or Stephens," Ortega said. "I was like, Frankie, we just fought him and Stephens, I want to fight for a title, not fight — if you look at it, [Renato] Moicano beat Stephens, [Cub] Swanson beat Stephens, and Edgar beat Stephens, I just finished all three of these guys."
Apparently, that's when it became apparent Ortega wouldn't be taking home a check that weekend.
"[Dana] put on his promoter hat and is like, 'Listen man, just fight, we'll work something out,' and I was like, 'We don't need to work anything out. I want Max Holloway or I want the belt'," Ortega said. "[Dana says] 'Well, we'll see if we can do an interim belt.' I'm not fighting for a fake belt. It looks cool but it's not the real belt. There's no real money involved with that one. Nothing really goes on in terms of being a champion. You just get something that says, 'I'm first place.' It just says I'm next in line for the belt but I'm already here! You just want to put something shiny around my waist to make me feel better. No, I'm not gonna do it.
"I showed up, I was cutting weight, I did all the media, even the media in Spanish. … I had to do double the work and do all that in Spanish. Every fighter left and I'm still stuck there doing everything in Spanish. I've been showing I was a company man. I'm down to promote the hell out of this fight, I took extra hours while I'm hungry, starving, to keep doing media. I showed up. Don't you think that's worth something? Even if I didn't take the fight, still. I did my end of the deal. Then they came back and said, 'Well our deal is to find you a fight and we found you a fight and you turned it down. … I did my job, you didn't do yours. Your job is to show up and fight'."
When @BrianTcity lost the fight with @BlessedMMA he didn't receive any compensation… at all 💸💸 pic.twitter.com/76zGzZlxrd
— Below the Belt with Brendan Schaub (@btbshowtime) July 19, 2018
—
Comments
comments