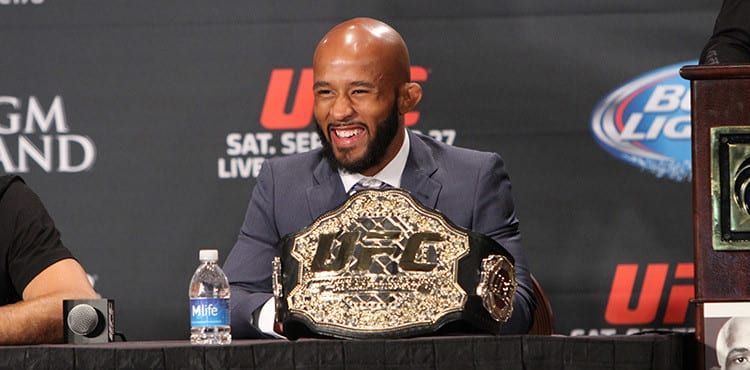 Demetrious Johnson's attempt at making history this Saturday night has been postponed.
The UFC flyweight champion's opponent for this weekend Ray Borg has pulled out of the contest through illness. Ariel Helwani first reported the news. Instead the co-main event — a title fight between Amanda Nunes and Valentina Shevchenko — will be promoted to top the bill.
It's reported that the illness Borg is suffering from is unrelated to his weight cut, but still made the UFC doctor's have declared him unfit to fit.
Should Johnson have defeated Borg, it would have been a record breaking victory, with Johnson potentially earning his eleventh straight title defence, one more than Anderson Silva's current record of ten.
The news takes on an even more perverse spin. Johnson was originally offered former bantamweight champion T.J. Dillashaw as an opponent in what was touted as a bout that could finally earn Johnson the plaudits he deserved. Johnson turned down that contest after suggesting he had no faith Dillashaw would reach fight night, and that letting a 135-pounder skip to the front of the 125-pound queue would be neglecting the division.
Sounds like there's strong chance Johnson/Borg will be rebooked to UFC 216 in October, nothing official yet.

— Brett Okamoto (@bokamotoESPN) September 8, 2017
Now, Johnson will have to wait until the fight is re-booked before he can try to cement his own legacy in UFC history — whether it's against Borg or anyone else.
Comments
comments