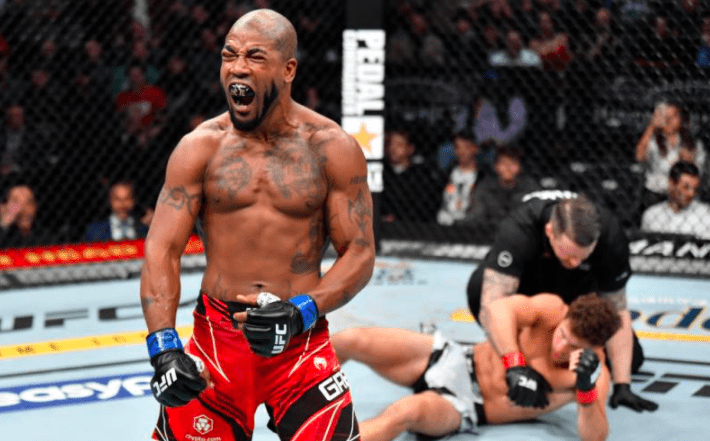 Cometh the hour, cometh the man.
Bobby Green fights for the second time in as many weeks on Saturday night when he takes on surging lightweight Islam Makhachev in the main event of the UFC's latest card in their Apex facility in Las Vegas — but he says there should have been a very long list of 155-pound fighters will to take the short notice opportunity against the Russian fighter following Beneil Dariush's withdrawal.
Dariush was forced to withdraw from the fight on Wednesday of last week after suffering an ankle injury in training the day prior, with UFC officials soon drafting Green — who beat Nasrat Haqparast earlier this month — into the fight.
And while he was more than willing to take the opportunity, Green told Ariel Helwani on Monday's MMA Hour that he couldn't quite believe why there wasn't a longer list of people willing to take the fight.
"I know already, the top-10 guys, [Dan] Hooker said it best, all those motherf*ckers got the call first. I guarantee you all those guys were p*ssies," said Green via MMA Fighting. "All those guys were f*cking p*ssies. They want to wait and pick their turns. 'No, it's not good enough. No, I need more time. No, I only want to fight somebody ahead of me, but then I want it to be with the right camp and I want it to be all the right situations.'
"All those guys play this like this weird game. I feel like they hold their cards in and wait for the right time to pull out their ace. Like, no! Sometimes you've got to jump on it and take it the way it is. Now I'm jumping over all you guys because why? You're too p*ssy to take the opportunity."
Makhachev, though, is undoubtedly a tall order. He has won nine straight fights at 155-pounds but Green says that he is going to provide the Russian with a level of discomfort that he has not yet felt in the Octagon.
"Let me show you some real G sh*t," Green said. "Get in there and do this sh*t with the highest guy in our f*cking division. I'm gonna walk in there like a gangster and punch that guy right in his f*cking face. I'm gonna keep hitting him in his face until he goes down. All he's gonna do is try to wrestle, and that's cool.
"He's gonna wrestle and wrestle and wrestle. I can wrestle too. That's fine. But at the end of the day, I just want to show my peers, my colleagues, and my opponents, this is how the f*ck you do this sh*t. You don't sit back and wait for the perfect opportunity.
I know all the different things that are in the back of [the public's] head. 'He's the most dominant, he's the most this, he's been on a tear, he's the dark horse of the division.' I know all those things but I'm gonna walk in there still like a G and like I said, punch him right in his f*cking face. And it's gonna keep coming."
Green, one suspects, is a man of his word.
Comments
comments