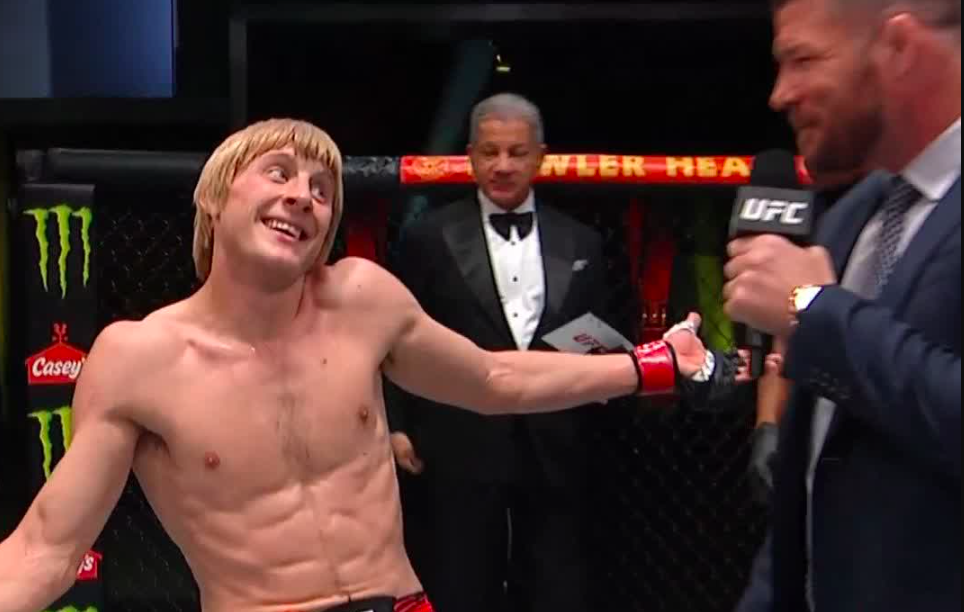 Michael Bisping says that he recognises the path that Paddy Pimblett is currently on.
Bisping, you will recall, entered the UFC all the way back in 2006 as an undefeated fighter and a winner of 'The Ultimate Fighter', and would go on to wrack up an impressive 17-1 career record (with a sole decision loss to Rashad Evans along the way) before encountering his first real career blip when he was knocked unconscious by a Dan Henderson right hand in what was the biggest fight of his career at UFC 100 in 2009.
That defeat was a difficult one to take for Bisping but it ultimately put him on a path which would culminate in him — seven years later — winning the UFC's middleweight title. And speaking on his 'Believe You Me' podcast, as noted by MMA Fighting, he suggests that Paddy Pimblett would be well served by checking his own ego — but hopefully not in the exact same method that Bisping did.
"I can't talk sh*t, because I did a similar thing myself, back in the day," said Bisping of his compatriot. "I've literally been in that position, 15 years ago. You're young, you get a lot of attention, maybe a bit of it goes to your head a little bit, and you start to think to a certain degree that your sh*t doesn't stink. Your sh*t still stinks. Everyone's does. It doesn't matter how big you get, because the court of public opinion will bring you back down to Earth pretty f*cking quickly, and that's what he experienced there."
Pimblett has faced the biggest backlash of his young career in recent weeks. First, he drew the ire of some fight fans by appearing to brown nose UFC president Dana White by trashing journalist Ariel Helwani on a podcast appearance, which was quickly followed by an extremely contentious decision win against Jared Gordon in a fight most observers scored for the American.
"I think what Paddy needs to do is just humble himself a little bit," added Bisping. "Stop with this 'I'm the new cash cow' sh*t. When I asked him who would he want to fight next, 'I don't need to say anyone's name because I am the man. I'm the boy, I'm the cash cow,' and you're yet to fight someone ranked. When you're dominating people, that's all well and good. When you're scraping by a victory, it doesn't have the same effect, and it starts to rub people off the wrong way.
"Nobody in the top 10, certainly in the top five, needs Paddy to give them a rub. Dustin Poirier, Islam Makhachev, Charles Oliveira, these are household names in mixed martial arts. They don't need Paddy to say their name to get a few Instagram followers. The whole 'pay me for interviews' thing, I think that left a bad taste in people's mouths. Again, I'm not hating. I'm just being honest in what I saw."
Ultimately though, Bisping says that Pimblett will be judged by his performances in the cage.
"The sport forgives fast and quickly," Bisping said. "All he's got to do is go out there, beat someone, and that's it. It's all forgotten about. Go out there, smoke someone, be cool and be funny, and all the rest of it and everyone forgets. This sport is about what have you done for me lately. You're only as good as your last fight…
"Look at me. I made so many mistakes. I was hated. We wouldn't have a podcast now if I was still hated."
Comments
comments