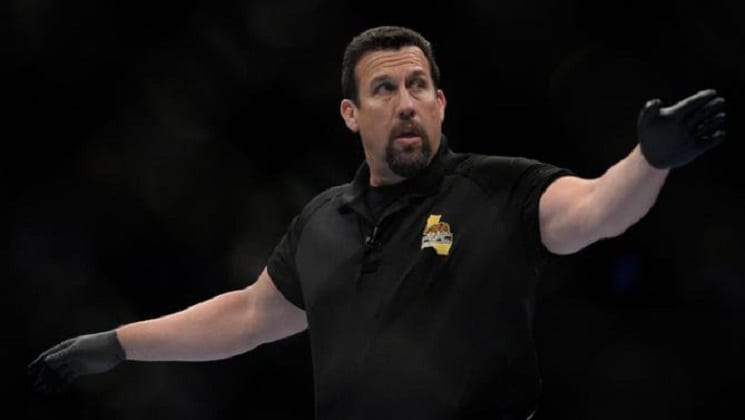 Bellator have moved quickly to fill the position left vacant by Jimmy Smith by announcing that the most famous referee in the game, 'Big' John McCarthy, has inked a deal with the organisation and will be a part of the restructured broadcast team.
McCarthy will serve as a colour commentator for Bellator on the soon to be launched Paramount Network, which will air the Bellator 192 event on January 20th. That event will be headlined by a welterweight title match between Douglas Lima and Rory MacDonald. Chael Sonnen and Quinton 'Rampage' Jackson will also meet in a first round match-up in Bellator's heavyweight grand prix and, interestingly, the promotion also announced that Sonnen will also call some broadcasts as Bellator moves into 2018 with somewhat of a new identity.
"With the addition of 'Big' John to our broadcast team, we have put together the premier group of MMA commentators ahead of our Jan. 20 debut on the Paramount Network," Bellator President Scott Coker said via press release. "With John and Chael providing analysis, you're getting two people who have spent more time in the cage than they have spent with a headset on, and that will translate to a positive viewing experience for Bellator fans."
Proud to welcome @JohnMcCarthyMMA to the @BellatorMMA broadcast team! "Big John" will make his debut January 20 on @paramountnet for #Bellator192.

Full details 👉 https://t.co/ImKvxIEmP9 pic.twitter.com/eqwSNZoo58

— Scott Coker (@ScottCoker) January 9, 2018
McCarthy and Sonnen, who will field 'select broadcasts', will be joined in the broadcast booth by two other recent Bellator signees, Mike Goldberg and Mauro Ranallo.
"I first want to say how grateful I am for the opportunity I have been given to work with the incredible team Bellator has assembled. It is always so hard to leave something you love, but I have always wanted to step away based on my terms rather than someone else's. My goals are to work as hard as I can to meet the expectations everyone will have for me and to hopefully someday exceed them." McCarthy said.
"I cannot think of anyone I would rather be working with than Scott Coker. Scott has always been a person I admire because of his honesty, loyalty and love for the martial arts. I want to thank everyone from Bellator and Viacom for the trust you are bestowing upon me to keep the commentating of Bellator MMA at the highest levels of the sport."
While he hasn't announced that he is leaving refereeing duties, his above statement certainly seems to suggest so.
Comments
comments