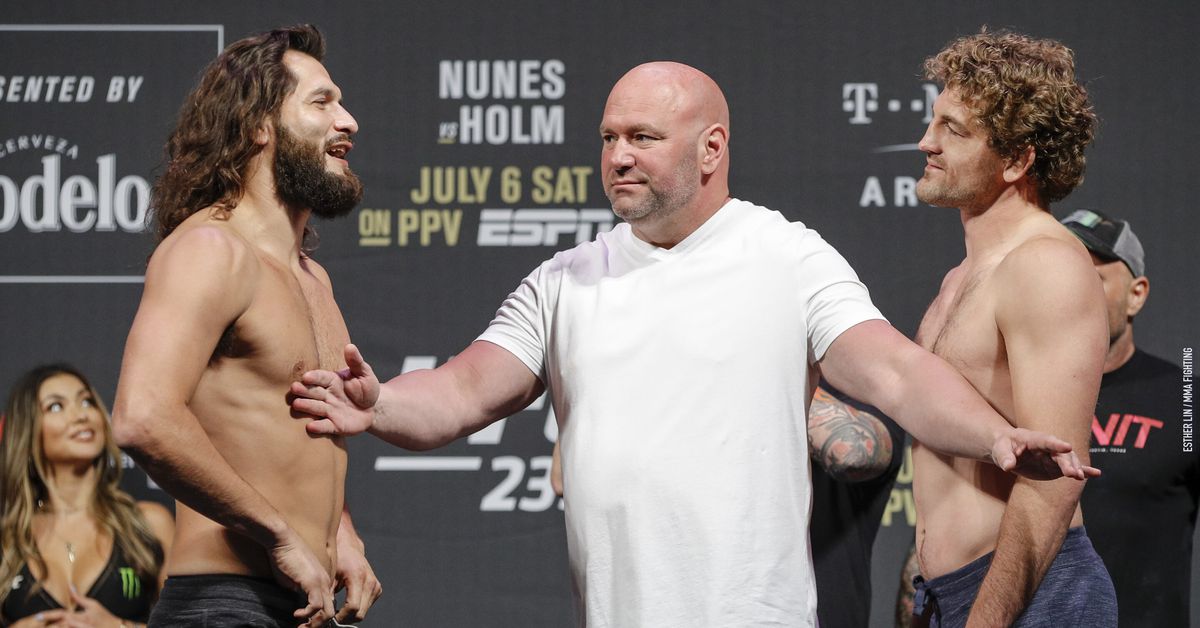 You can be sure that Ben Askren has been waiting for an opportunity to have a go at his old rival Jorge Masvidal in the media and after his defeat last weekend to Colby Covington in which Masvidal debuted his new Askren-inspired tattoo, he has finally got his chance.
Askren was, as if you needed reminding, the victim of the quickest knockout in UFC history a few years back when Masvidal launched a flying knee into his dome in the opening seconds of the first round, handing Askren his first-ever professional loss in what was his second UFC fight — and speaking on Wednesday's edition of The MMA Hour via MMA Fighting, Askren let loose on his old rival and his new tattoo.
"It's terrible," Askren said. "Oh God, it just looks like crap. That's something like a teenager gets and you're like, 'Oh sh*t, I thought that was going to look a lot better, I thought this was going to be really badass but it looks kind of dopey.' He's rich. He can go to the best tattoo artist in the place.
"I think it's semi-telling how important that singular moment was to his career. He knows it and tattooed it on his body because it was that important to him."
View this post on Instagram
As for the fight against Covington itself, Askren said that the five-round affair went down like he imagined it would — with Covington's grappling credentials being the difference between the two former friends turned rivals.
"Kind of what we expected," Askren state. "The thing that I get annoyed about is Jorge wants to fight him after the fight, and it's like, you just had 25 minutes to do almost anything you want. You can't eye gouge and bite — we've got a couple rules, but not a lot — so you can do whatever you want for 25 minutes, and now you're going to act like you want more? Hey, you had 25 minutes, freaking do it to him.
"Obviously, Jorge did clip him one time, so I thought that was a possibility. Unfortunately, he's had some good strikes in his career land. I thought it was way more likely that Colby kind of just controls him and beats him up."
Ultimately, Askren says that the fight against Covington proved Masivdal's place in the welterweight division, in that he is capable of impressive wins but that his deficiencies will always be exposed when he comes up against most high-level competition.
"This is who Jorge was always. Never changed," Askren surmiseed. "Unfortunately, he nailed me. Because the [Nate] Diaz [win] isn't all that great. That was a great fight for him, but if you want to look back at his mixed martial arts career — and people can get mad at me, say what they want — but these are just facts. He's lost three in a row; before that, he won three in a row. Before that he lost two in a row, before that he won three in a row. Before that he lost three of four, and then he won three, and then he lost one, and then he won three.
"This is how his career went. He's like 35-15. He's had some good wins. He's had some not-so-great losses."
Comments
comments