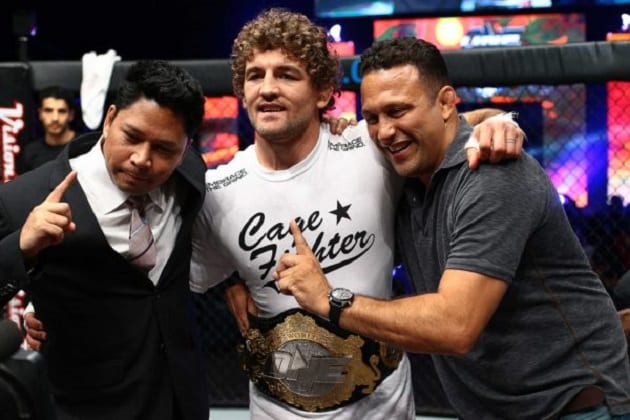 Whenever the MMA trivia question arises about who's the best fighter to never fight in the UFC, there are a number of potential answers. If Ben Askren gets his way, he'll shortly be removing his name as one of those.
The welterweight has long reigned supreme outside of MMA's top tier promotion, and has consistently attempted to find his way in. While there is no definitive answer as to why he's never been brought to the highest stage, most point to a public disagreement with UFC president Dana White as the cause.
Now though, for the last couple of months, Askren has seemed more buoyed. While he recently retired from MMA, an appearance on UFC commentator Joe Rogan's podcast and being subsequently mentioned on UFC on FOX programming appeared to have Askren feeling as if an invitation might be headed his way.
Combine that with a long held desire to fight Georges St-Pierre, and Askren is feeling pretty positive about his chances going forward over the next year. Especially, he says, as he believes St-Pierre is such a competitor that the Canadian will want to beat the only welterweight he never met during his legendary run.
"At the end of the day, in his heart, he's really a martial artist, and most martial artists appreciate what I've done in MMA," Askren said, speaking on MMAFighting's TheMMAHour. "While it may not have been the flashiest or the most creative, I brought a very unique skill set and I executed in a fashion that very few have done before me, and I think very few will do after me.
"There's absolutely momentum here," Askren continued. "All you need to know is that in 2019, I'm going to go to Montreal and I'm going to fight GSP at the Bell Centre. I will beat up GSP, and I will have somewhere around 20,000 Canadians booing me, and it will be a fantastic sight to see."
Certainly Askren isn't short of confidence, 18-0 in mixed martial arts, Askren claims he'd be able to use his grinding wrestling style against St-Pierre, arguably the best ever in the sports history, to win easily — something that requires no little amount of bravado.
But that's what Askren is doing.
"Here's what I think happens," Askren said, "because the one thing I have over him is I have the wrestling advantage and I don't get tired, and that's usually what he's relied on in the last, say, 10 to 12 fights or so. I think he's very tough to take down early. I think he's very tough. I think he's probably going to win the striking battle, but one of the things, I never take a lot of damage. I just don't get hit a lot. That's what I'm good at.
"And over the course of the second and third round, I start to wear him down, my takedowns become more effective. By the third and fourth round, I've started dominating with my top game. He's used to being on top — he can't get me off of top. If he does get a momentary glimpse of hope, I'm back on him, no problem. And in the fifth round, he mentally breaks and he says, 'I can't do this anymore, I've never been in this position in my life,' and he let's me finish him.
"TKO. He just says, 'I'm done with this shit.'"
Comments
comments