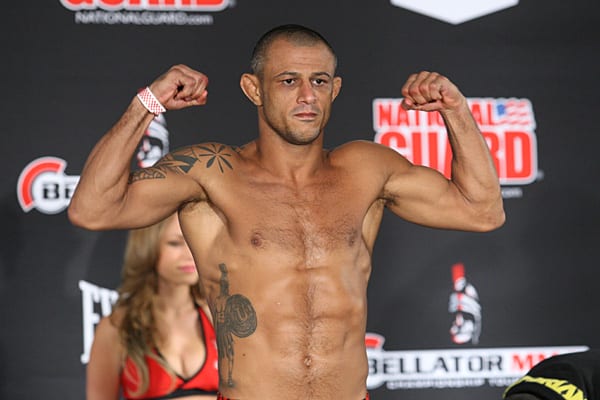 Marlon Sandro, a 26-7 featherweight who competed 12 times under the Bellator banner, has been charged with the attempted murder of his wife in his native Brazil.
As per a police report obtained by MMAFighting, Sandro is accused of attacking his fiancé last December. The allegations state that Sandro injured her arm, choked her unconscious in a street and continued the assault further when she awoke. It is understood that Sandro will face attempted murder charges for this incident, for which the maximum punishment under Brazilian law is 20 years in prison.
The former King of Pancrase and Sengoku champion also faces a further charge stemming from an incident this month in which he allegedly broke into the same woman's house and threatened her with a knife and further assaulting her. The victim was saved by her mother and brother who she managed to text during the assault.
News of the December incident had made the rounds on social media in Brazil, though Sandro had been silent on the matter. On Tuesday he spoke for the first time in reference of the incidents.
"Guys, I came here to ask you a chance to work," Sandro said on social media. "I'm unemployed, I need to work, I need to fight, and I'm asking you all an opportunity. I have no problem leaving the country, traveling, working. I'm resolving my problems in justice.
"I know I've failed, I know I made a mistake, but I think that every human being has the right to redeem himself and try to fix things in life. I know I'm a good citizen. I know I failed, I know I made a mistake, but I know that I have a lot more to fix and get better."
Sandro also confirmed he has been expelled from Nova Uniao. A date has not yet been set for Sandro to face charges in front of a judge.
Comments
comments