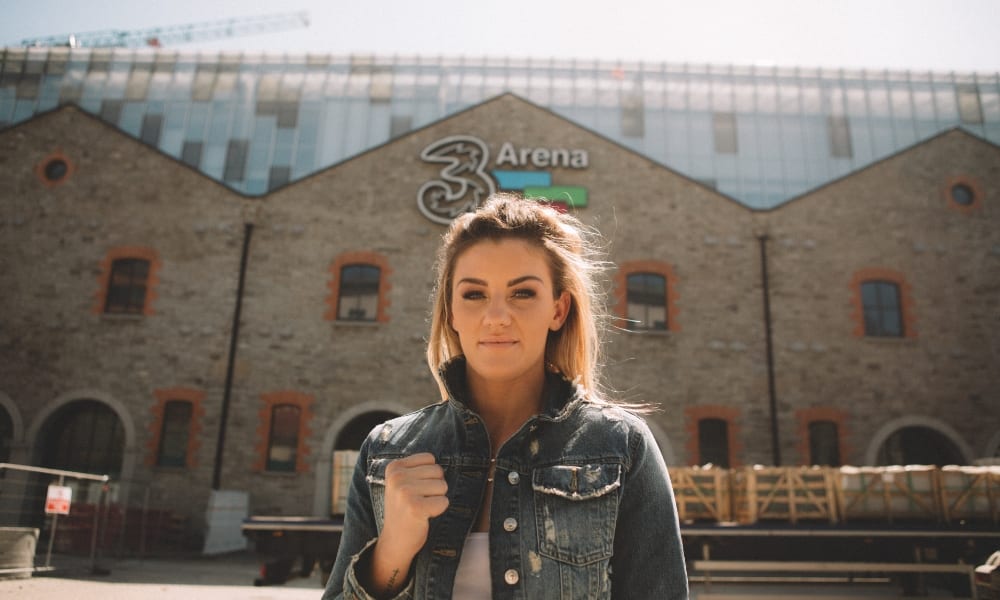 All fighters have hit the scales ahead of Saturday's double-header Bellator Dublin and Bellator 240 card from the Irish capital but in time-honoured weigh-in fashion, it wasn't without just a little bit of drama.
The event hit a snag in the weeks leading in to after the main event, James Gallagher, and one of the featured attractions, Peter Queally, were forced to pull out due to injuries suffered in their preparation but where there is misfortune for one, there is opportunity for another as former amateur world champion Leah McCourt (pictured above) steps into her first ever main event opposite Judith Ruis.
Former Bellator champion Brent Primus, Queally's original opponent, will now face Scotland's Chris Bungard on the card (who missed weight at this morning's weigh-ins), while the commission stepped in on a couple of other occasions to change bouts to catchweight affairs after a number of short notice fighters appeared to struggle on the scales.
The full Bellator Dublin & Bellator 240 weigh-in results are presented below:
Bellator 240
Brent Primus (154.8) vs. Chris Bungard (159)*
Kiefer Crosbie (159.6) vs. Iamik Furtado (159.8)
Bec Rawlings (125) vs. Elina Kallionidou (126)
Ricky Bandejas (135) vs. Frans Mlambo (135)
Oliver Enkamp (171) vs. Lewis Long (170.8)
Bellator Dublin 
Leah McCourt (146) vs. Judith Ruis (144.2)
Charlie Ward (185) vs. Kyle Kurtz (182.4)
Aaron Chalmers (169.8) vs. Austin Clem (169.6)
Undercard (MMA Fighting at 11:30 a.m. ET)
Ilias Bulaid (145.6) vs. Diego Freitas (144.2)
 Richard Kiely (181.2) vs. George Hardwick (175.6)*
Paul Redmond (156) vs. Georgi Karakhanyan (155.6)
Philip Mulpeter (155.4) vs. Daniel Crawford (156)
Asael Adjoudj (145.2) vs. Constantin Blanita (146.4)*
Richie Smullen (145) vs. Alberth Dias (149)*
Will Fleury (184.6) vs. Justin Moore (185.8)
Mateusz Piskorz (160.6) vs. Chris Duncan (160)
Dylan Logan (145) vs. Calum Murrie (145.2)
Blaine O'Driscoll (125.2) vs. Ezzoubair Bouarsa (125.8)
Ciaran Clarke (145) vs. Jamie Faulding (145.8)
Danni Neilan (115.6) vs. Chiara Penco (115.2)
* Indicates that the commission changed bout to catchweight.
Comments
comments