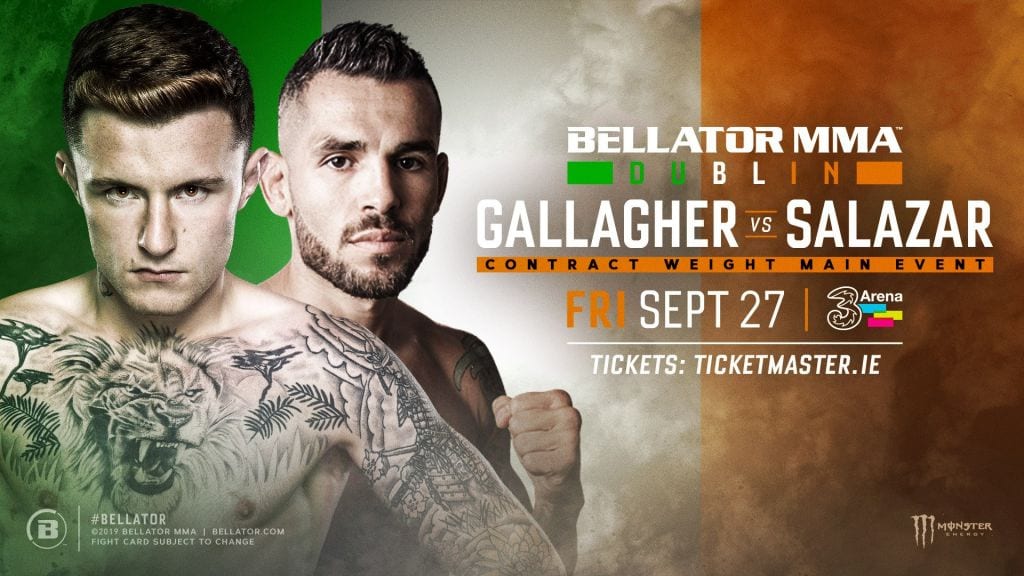 Dublin, Ireland – Bellator MMA have returned to the Irish capital for the second time this year and once again, the card will be headlined by James Gallagher as he attempts to tell his own tale inside an arena in which an Irish 'takeover' of MMA was prophesied almost exactly five years ago.
Opposite him will stand Roman Salazar, a fighter added to the card just last week after original opponent Cal Ellenor was deemed medically unable to compete. Also on the card will be a fight that has become personal between one of Bellator's biggest stars in Michael 'Venom' Page as he faces Dublin's own Richard Kiely, while Irish fighters Kiefer Crosbie, Peter Queally (and many others) will also compete. Former UFC lightweight champion Benson Henderson will also be on hand to welcome fellow UFC alum Myles Jury to the organisation.
READ MORE – Bellator Dublin: What time, where to watch and who to keep an eye out for
You can keep track of the card via the results below, as well as on Twitter and Instagram.
Bellator Dublin // September 27 2019
Bantamweight Main Event: James Gallagher (9-1) vs. Roman Salazar (13-9 (1))  –  Gallagher wins by first round submission
Welterweight Co-Main Event: Michael "Venom" Page (14-1) vs. Richard Kiely (3-1)  –  Page wins by first round knockout
Lightweight Bout: Ryan Scope (11-2) vs. Peter Queally (11-5-1)  –  Queally wins by second round knockout
Lightweight Main Event: Benson Henderson (27-8) vs. Myles Jury (17-4)  –  Henderson wins by unanimous decision (30-27 x3)
Catchweight 165lbs Bout: Kiefer Crosbie (6-1) vs. Hugo Pereira (4-2)  –  Crosbie wins by unanimous decision (29-28 x2, 30-27)
Middleweight Bout: Norbert Novenyi Jr. (3-0) vs. Will Fleury (6-1)  –  Novenyi Jr. wins by unanimous decision (30-26 x2, 30-27)
Women's Featherweight Bout: Leah McCourt (2-1) vs. Kerry Hughes (3-4)  –  McCourt wins by first round rear-naked choke
Bantamweight Bout: Frans Mlambo (7-4) vs. Dominique Wooding (6-2)  –  Mlambo wins by unanimous decision (30-27 x2, 30-28)
Featherweight Bout: George Courtney (1-0) vs. Ciaran Clarke (Pro Debut) — bout delayed
Featherweight Bout: Richie Smullen (4-1-1) vs. Sean Tobin (6-3)  –  Smullen wins by first round rear-naked choke
Lightweight Bout: Ryan Roddy (7-1-1) vs. Patrik Pietila (11- 7)  –  Roddy wins by unanimous decision (29-27 x 3)
Featherweight Bout: Ilias Bulaid (Pro Debut) vs. Vitalic Maiboroda (Pro Debut)  –  Bulaid wins by first round knockout
Light Heavyweight Bout: Lee Chadwick (25-14-1) vs. Karl Moore (8-2)  –  Moore wins by split decision (29-28 x 2, 28-29)
Welterweight Bout: Philip Mulpeter (9-6) vs. Keith McCabe (3-4-1)  –  Mulpeter wins by split decision (29-28 x 2, 27-30)
Flyweight Bout: Blaine O Driscoll (7-2) vs. Jake Hadley (4-0)  –  Hadley wins by third round rear-naked choke
Featherweight Bout: Dylan Logan (3-3) vs. Adam Gustab (4-4)  –  Logan wins by second round triangle choke 
Welterweight Bout: Ian Coughlan (1-0) vs. Constantin Gnusariev (2-0-1)  –  Gnusiariev wins by decision (29-28 x 2, 30-27)
**Please note: All fighter records are prior to tonight's fights**
Comments
comments