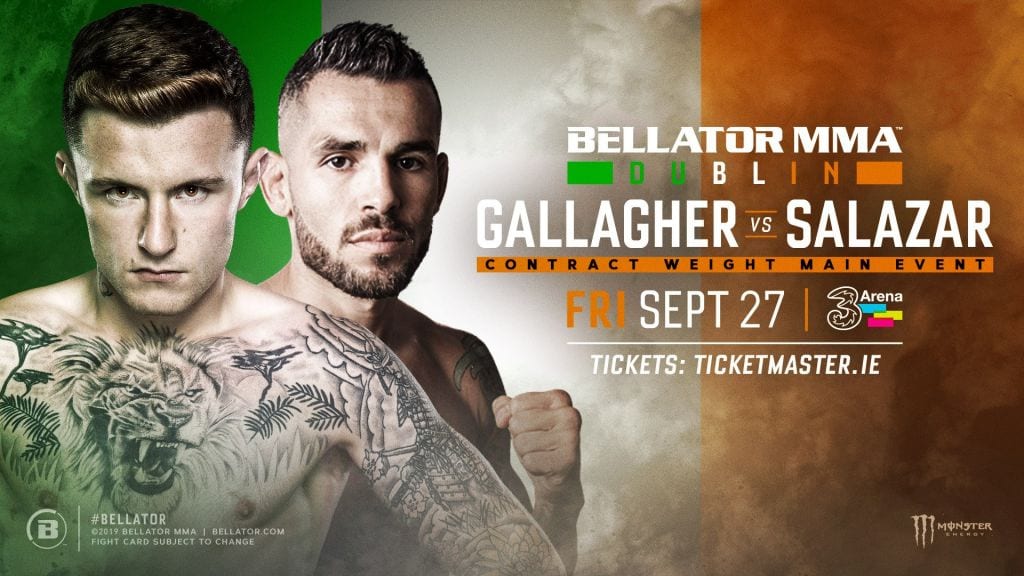 Friday's Bellator 227 event in Dublin, Ireland is official after the early morning weigh-ins took place in the Irish capital early Thursday morning.
The main event featuring James Gallagher and short-notice replacement Roman Salazar was intended to take place at a 140-pound catchweight but Salazar missed weight, with Gallagher confirming on social media that he will take 20% of his opponent's purse.
Meanwhile, the much-anticipated bout between former UFC lightweight champion Benson Henderson and another ex-UFC standout Myles Jury will go ahead as planned after Jury missed weight by 0.2 pounds.
As had been announced earlier in the week, a proposed lightweight bout between Peter Queally and Ryan Scope has been moved to welterweight following an agreement to do so between both parties.
The ceremonial weigh-ins will take place in Dublin at 5pm local time (12pm ET) and can be viewed via the video player below.
Bellator Dublin // September 27, weigh-in results
James Gallagher (139.8) vs. Roman Salazar (145.4)
Michael "Venom" Page (170.6) vs. Richard Kiely (171)
Ryan Scope (170) vs. Peter Queally (168.4)
Benson Henderson (156) vs. Myles Jury (156.2)
Kiefer Crosbie (163.8) vs. Hugo Pereira (164.8)
Norbert Novenyi Jr. (185.6) vs. Will Fleury (186)
Leah McCourt (145.8) vs. Kerry Hughes (145)
Frans Mlambo (135) vs. Dominique Wooding (135.6)
Camila Rivarola (115.6) vs. Danni Neilan (115.5)
George Courtney (144.6) vs. Ciaran Clarke (146)
Richie Smullen (144.8) vs. Sean Tobin (145)
Ryan Roddy (154.8) vs. Patrik Pietila (155.4)
Ilias Bulaid (145.4) vs. Vitalic Maiboroda (146)
Lee Chadwick (206) vs. Karl Moore (205.8)
Philip Mulpeter (170.2) vs. Keith McCabe (168.6)
Blaine O'Driscoll (124.8) vs. Jake Hadley (125.6)
Dylan Logan (145.5) vs. Adam Gustab (145.6)
Ian Coughlan (170.4) vs. Constantin Gnusariev (167)
Comments
comments