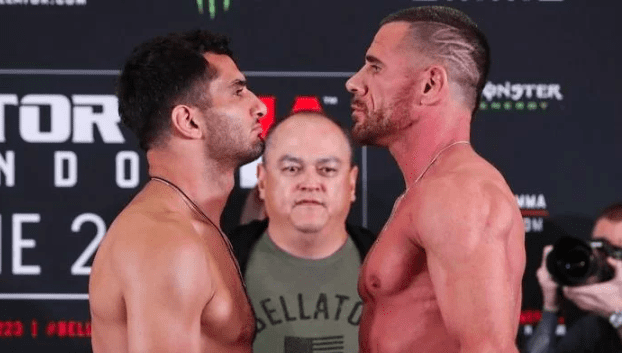 World class grappler Rafael Lovato Jr. may be forced to call time on his career, telling The JRE MMA Show of a brain issue he is experiencing which may prohibit him being granted a license to fight.
Lovato Jr. (above right) is a perfect 10-0 in his mixed martial arts career and won the Bellator middleweight title from Gegard Mousasi in June of last year. He hasn't yet been linked to his first title defence but the reasoning for that became clear following his discussion with Rogan, in which the Brazilian revealed the extent of his health situation.
He said that he has been diagnosed withHe said that he has been diagnosed with a condition called cavernoma, where abnormal blood vessels cluster in the brain or spinal cord.
"I want to be healthy, whether I get to fight or not," he said via MMA Fighting. "In the meantime, I don't want to hold up the division.
"Bellator is being very kind with time. I understand there are guys that deserve to fight for the title. If they have to set up a fight to determine a new champion, I understand. I'm going to be doing everything to come back, but it's sort of an indefinite retirement."
He continued, saying that precautions have been advised due to the nature of the ailment.
"One [doctor] said jiu-jitsu could be dangerous; me getting my blood cut off with a choke could be dangerous," said Lovato Jr.
The 36-year-old says that he is prepared to wait as long as it takes to compete again, something he hopes to do on at least one more occasion.
"If it's really unsafe and I'm not going to get approved, ever, I finally got to a place where I can accept that and I'm going to move forward on with my life, teaching and doing what I do at home," he said. "I'm trying to keep the hope alive, that if it's six months, one year, even two years, then maybe I can at least get one more."
Comments
comments