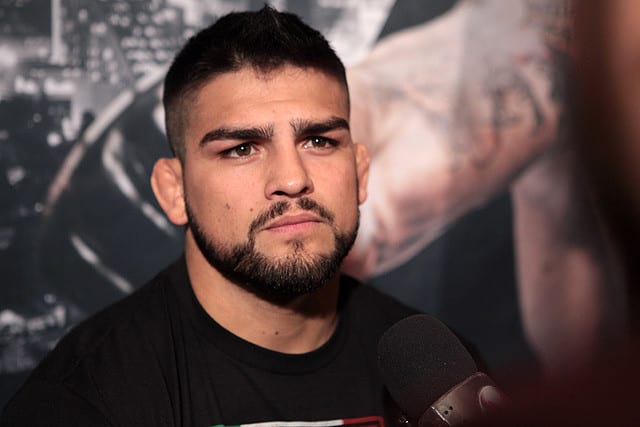 Kelvin Gastelum has experienced his share of ups and downs over the course of the last couple of months.
Gastelum, a winner of a previous season of The Ultimate Fighter, failed to make weight for a UFC 205 bout with Donald Cerrone in New York in early November. In fact not only did he not make weight, he didn't even step on the scales — an oversight for which the New York Athletic Commission levied a six-month suspension on the fighter.
Not just the monetary penalty, Gastelum found himself in hot water with UFC brass with this being the latest in several instances where he failed to make his contracted weight ahead of a bout.
Dana White mandated Gastelum's move north to the 185-pound division and in December, having settled his case with the NYAC with the payment of a $2,000 fine, the accidental middleweight found himself in the cage with Tim Kennedy — a fighter whose imposing frame pushes the limits of every ounce of the 185-pound weight limit.
It was arguably the best performance of Gastelum's UFC tenure to date. Kennedy was a beat behind throughout the contest, with Gastelum's fleet of foot enhanced by the lack of a debilitating weight cut.
And, with the evidence of what he can do at middleweight fresh in the mind, Gastelum is now considering taking fights at both welterweight and middleweight as he makes a case for a title shot at either weight class.
"I don't see why I can't be competing in both weight classes", said Gastelum to BloodyElbow.com.
"I felt great at 185. I feel I can excel at this weight, and I feel I beat the top guys at this weight. I remember a few years back, I wasn't very confident in my abilities. But now, a few years have passed, and I'm pretty confident in my abilities, confident in my skills to know that I can compete with the best middleweights and also the best welterweights."
Gastelum's next test will again come in the middleweight division, where he will face former #1 contender Vitor Belfort in the main event of UFC Fight Night 107 in Brazil in March.
"They've granted me my wish and they got me a fight I'm interested in — a main event fight in Brazil against a legend like Vitor," he said. "I can't say no to that.
"I think it'll open up my horizons even more," he said. "Whatever fight gets me to the title fight faster is the fight that I'll take."
Comments
comments