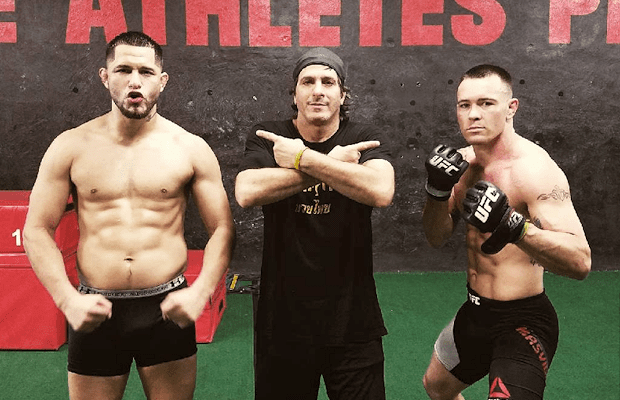 There is no room for friendship in the UFC's welterweight division, at least when it comes to Colby Covington.
The presumptive next challenger for Kamaru Usman's 170-pound title is a longtime friend and training partner of Jorge Masvidal at American Top Team, the other fighter in the division with a standout case for a title shot of his own following sensational consecutive finishes of Darren Till and Ben Askren in recent months.
Masvidal, though, has put his title credentials to the side for one moment after being challenged by the returning Nate Diaz following his victory against Anthony Pettis last weekend in what will be one of the division's most anticipated fights — perhaps even more-so than Covington's title bid against rival wrestler Usman.
But, even when it comes to teammate whom he describes as a close friend, Covington couldn't quite escape from self-promotion mode when he was asked for his thoughts on the tussle (which hasn't been made official yet, don't forget).
"Yeah, you know, it's the battle of the journeyman," Masvidal said to TSN's MMA Show via MMA Mania. "It's an exciting fight, the battle of the 500-level fighter. Nate Diaz is 1-1 in the last three years, and Jorge Masvidal is 2-2 in the last year or two. So it's the battle of the journeymen, 500 fighter. So I am excited to see who comes out on top."
The comments were perhaps surprising when it comes to Covington's closeness to Masvidal, something that the former interim champion was keen to clarify.
"No, not at all, no trouble in paradise. Have I said anything that's a lie? Where is the lie? I am saying all truth and facts here. If someone gets mad at me or a media member, or him even, for saying facts, then you are living in denial, a delusional world," Covington said.
"There is no beef, he is still my best friend. Man, we go way back and you don't know what me and that guy have been through. We have been through so much together so I got nothing but respect and love for him. He's my brother."
Comments
comments