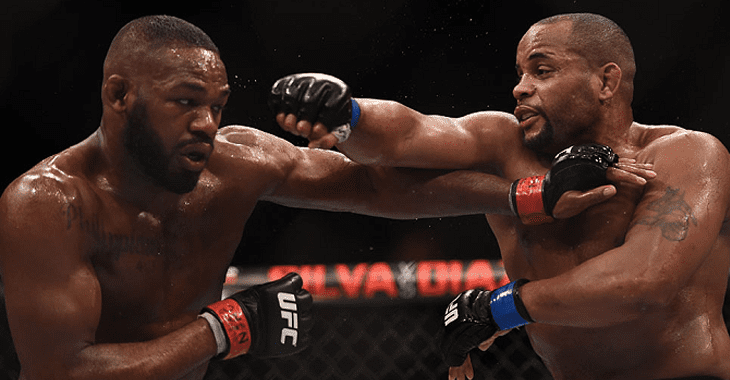 Daniel Cormier might not have a great deal of respect for Jon Jones the man but he does for Jon Jones the fighter.
But despite his admittance of Jones' skills inside the cage, Cormier says that his longtime rival cannot be in consideration in the lofty 'GOAT' discussions after his run-ins with the sport's drug-testing authorities. Jones was pulled from a UFC 200 fight with Cormier in the summer of 2016 after testing positive for two banned substances and also tested positive for another substance, this time the anabolic steroid Turinabol, after he knocked out Cormier in their 2017 fight. The result was subsequently changed to a no-contest.
"One of the most talented guys you'll ever meet but again for me bad [drug] tests eliminate you from the conversation," Cormier told MMA Fighting. "Cormier said when speaking to MMA Fighting. "I just cannot understand how that is so hard to comprehend in a sport where we're fighting each other. In baseball, bad tests eliminate you from being considered and being in the Hall of Fame and you're hitting a ball. You're hitting an object that has no feeling. In fighting, you're punching people, human beings, and you have bad tests that eliminates you. It's just too dangerous.
View this post on Instagram
"So I think when you start to think about the greatest of all time for all the things and all the great victories, you can't look at those, me personally being a guy that those fights did really long term damage to my career, it's hard for me to say [Jon Jones] is the greatest of all time when every time we fought, there was some sort of issue. That for me, it just kind of changes the conversation.
"Jones was having bad tests while we had USADA and people still want to place him at the top of the all time greatest list. That's crazy. It wasn't even illegal in baseball in the late 90's and those guys are hitting homeruns freaking 50 yards longer than they ever have. It's just a different sport obviously, but it just seems like the possibilities of damage are just so much more severe in mixed martial arts. For anyone, even Anderson [Silva]. Anderson was the man. Bad tests, I don't care if it's for viagra, it does not matter. It's a bad test. Bad tests in a combat sport where you're punching people, just not right. It eliminates you."
Comments
comments