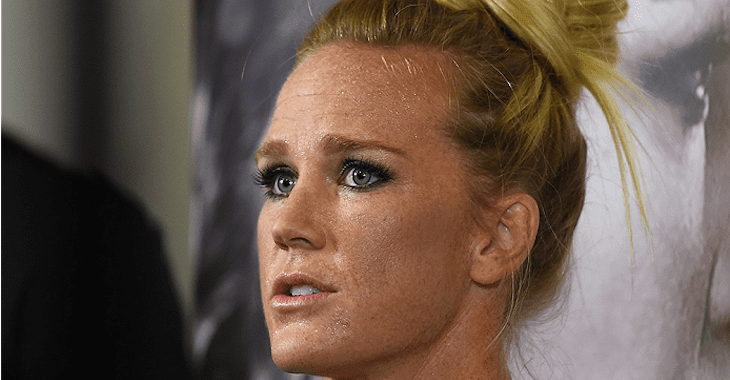 Holly Holm is in an interesting spot. Not many, after all, get to fight for a world title immediately following a defeat. Let alone two.
And perhaps it's because of that odd dynamic that the former champion (in both boxing and mixed martial arts) is more focused on victory now than ever before. Two losses back-to-back is a place she's never been before. Three losses would be a place she would struggle to leave.
At UFC 208, Holm has an opportunity to fix her situation and do so with a reward only a select few have ever experienced — world titles at two weights.
"I always want to do what no one else has done, and that's part of what drove me to MMA," Holm said, speaking with Rolling Stone. "No one had won world titles in boxing and MMA. I wanted to be the first one to do that. I love that I was able to do that. I hate that I didn't defend the belt, but that's what keeps me motivated. Here I am with another opportunity to be part of another history-making thing. It's never been done before. If I had my way I would still have the 135-pound belt and still done this, because that would be the real accomplishment. Being able to hold both belts for a while would have been ideal, and I still want to do that."
But as enticing as a second world title is, possibly the bigger driving force for Holm here is recovering from the biggest slump in her career. Her loss to Miesha Tate at UFC 196 was hard. To follow that up with a loss to Valentina Shevchenko was devastating, particularly as it was the first time in a career spanning over 53 contests.
"It was depressing in all honesty. I hated it," Holm says. "But feeling how low I was served as a reminder to me about how passionate I still am about the sport. If I didn't really care that much about losing I would question myself and whether I should be doing this anymore. There was a breaking point, but what are you going to do? It's in the past. I can't change it and I have to go forward. My thumb was broken, my hand was broken, I had road rash all over me and I couldn't even go to the gym. I just had to accept that I failed. I was at a point I'd never been but I knew I wouldn't let myself be stuck there. I wanted to learn and get back. The reason I'm doing this sport is because I love it. It doesn't mean I need to feel defeated forever. I knew I had a lot to offer still.
"I don't want my whole career to be defined around getting the belt from Ronda. I want my career to be defined around me being the best fighter I can be and accomplishing the biggest things I can against whatever competition comes against me. I want this for my career. I don't want it to just be around the one moment. I want people to remember everything after. I want to do a lot in this career still."
Comments
comments