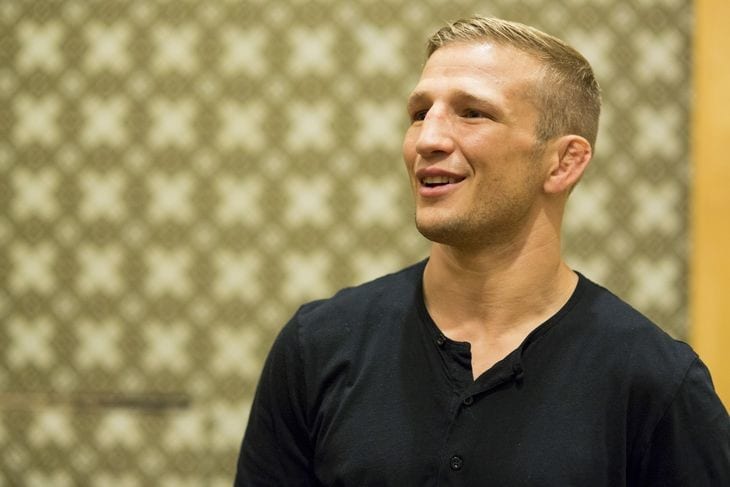 Davis, a protege of Floyd Mayweather, appears to have set his sights on a mixed martial arts bout with bantamweight champion T.J. Dillashaw, after announcing on Twitter that he wants to face "the dude that fought Cody".
Crossover combat sports bouts have certainly been in vogue recently. Conor McGregor taking a boxing match with all-time great Floyd Mayweather a year ago was the first instance of a top level, in his prime mixed martial artist trying his hand at professional boxing.
The reverse of that has not yet happened, however. James Toney, who was vastly out of his prime, was easily defeated by Randy Couture in the UFC years ago. Ray Mercer, a former pound for pound great, accepted bouts with Kimbo Slice (an amateur bout in which Mercer lost by submission) and former UFC heavyweight champ Tim Sylvia (Mercer won by early one-punch KO) but if Davis (20-0, 19KO) was to entertain the concept of a full-rules contest with a proven world class fighter in Dillashaw, it would set a new precedent for boxers moving to MMA.
Davis issued the callout on Twitter and, as you would expect, Dillashaw appears open to the idea.
I wanna fight the dude that fought Cody yesterday

— Gervonta Davis (@Gervontaa) August 5, 2018
— Gervonta Davis (@Gervontaa) August 5, 2018
Bring it! I heard they were handing out belts after Loma left your division https://t.co/fNnHPqFKJQ

— TJ Dillashaw (@TJDillashaw) August 9, 2018
If he dares to step in the octagon I would love to show him how my shin taste! Think he's a over rated boxer as well with that padded record and I beat him in the ring. @Gervontaa I ain't scared https://t.co/6wgmsgCGEQ

— TJ Dillashaw (@TJDillashaw) August 9, 2018
Let's make it happen then pussy https://t.co/m43E2djkx4

— Gervonta Davis (@Gervontaa) August 9, 2018
I kno I'll knock TJ out

— Gervonta Davis (@Gervontaa) August 9, 2018
Naptime 😴😴😴😴 pic.twitter.com/a1fM0gm1al

— TJ Dillashaw (@TJDillashaw) August 11, 2018
😂 Come on over then. Ask daddy Mayweather for permission and come sign a one fight contract then. Actually, no need for a one fight contract, just sign a one round contract. That's all I need. https://t.co/48i3m55vqu

— TJ Dillashaw (@TJDillashaw) August 11, 2018
–
Comments
comments