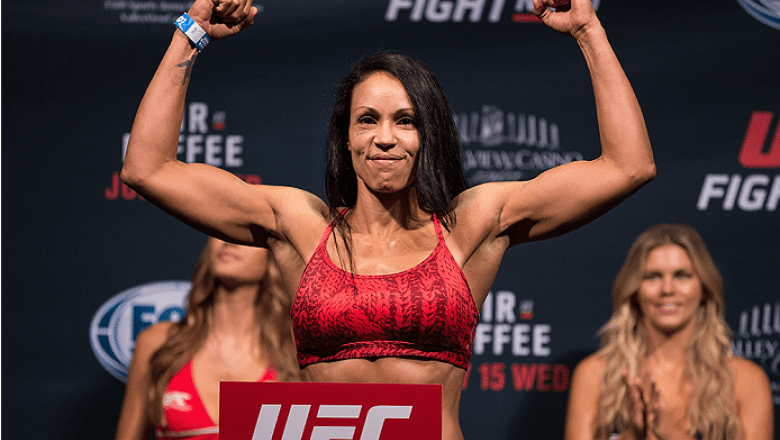 Amid the uncertainty which the novel coronavirus has brought to practically all employment sectors across the globe and called a halt to almost the entire sporting landscape for the indefinite future, the UFC have steadfastly remained confident that the show must go on.
UFC president Dana White was forced into the cancellation of a trio of UFC events including the UFC London event which was scheduled to take place on Saturday due to government restrictions placed on travel and public gatherings in an attempt to curb the spread of the virus. The decision to keep the show on the road (only for several events to fall through) places a financial burden on the fighters who were slated to compete, most of whom who had already paid out of pocket for their own training expenses.
Ashlee Evans-Smith was one fighter whose UFC London bout was nixed and, as she told MMA Fighting, it has left her unsure as to how or if she will be able to pay her training costs.
"I haven't heard anything from the UFC and the UFC as much money as they have, they're not giving out money left and right for nothing," Evans-Smith said. "I know the Bellator fighters that got compensated, they weighed in and I'm just really hoping that the UFC doesn't do some trickery and say, 'Oh, well you didn't make weight or you didn't weigh in.' I'm not saying they're gonna do that, but I'm also not gonna get my hopes up.
"I think we deserve that money to say the least. I, personally, was going to go over there and risk my personal health. I was willing to risk getting quarantined to fight, to perform, to do my job for them. So I really hope that they compensate us."
Uncertainty as to whether or not Evans-Smith — who was due to fight Molly McCann — will be given another date to compete in the near future has also left her uncertain as to whether she should continue to watch her diet in advance of potentially having to make weight.
"I'm on the flight, I'm literally about to take off and my manager is like, 'Just stay ready,'"she said. "And I'm like, 'Ready like don't eat?' He's like, 'Yeah, they might reschedule the fight in California.'
"Are you serious? I'm already eating and he's like, 'We might do a catchweight. So just don't worry, don't stress.' I'm like, that's like saying f*cking don't breathe right now. Don't stress? Don't stress? You don't know where I'm gonna fight, where I'm gonna fight, maybe I fight Saturday. So yeah there was talk, but it was so ridiculous. We didn't know if the world was shutting down.
"It was a roller coaster of emotions because going over there I didn't know I didn't know what to expect," Evans-Smith said. "I didn't know if I was going to fight. I didn't know if I was going to get quarantined. Still cutting weight—and I'm a big girl for 125—I'm hangry at this point, like, 'What the hell is going on in the world?' I was on the plane crying because, I don't know, I'm a girl, I'm emotional. I love my sport. I wanted to compete. I need to make money, put food on the table, all that.
"But now it's like, take a breath, and I realize this whole thing is so much bigger than me and my fight in the sport. Worldwide, people are dying. Yeah, I was upset at the time, but I'm just trying to be grateful that I'm healthy, no one I know is sick, knock on wood."
Comments
comments