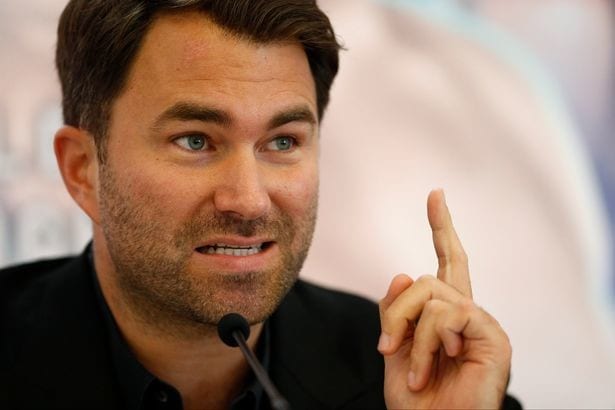 Eddie Hearn believes sport and businesses could look very different after the effects of the coronavirus pandemic set in.
All over the world, we're seeing gatherings of people in public banned or regulated — something which has devastated sport globally. For Hearn, he admits there were attempts to push ahead in spite of the virus, but eventually, regulators informed him of the risks and left him with no option but to suspend Matchroom Boxing's activities for the time being.
"Having spoken to Robert Smith yesterday, the British Boxing Board of Control, it was clear that — then it becomes a problem with doctors and potential access into hospitals," Hearn said, speaking on Sky Sports. "If a fighter's injured on the evening, and then it becomes a complete no-go, you know, removing from the pandemic, we then come into putting fighters at risk.
"And of course that's a non-starter for us at all. So, you know, various ideas for moving from mass gathering to behind closed doors to studios. But all of those right now put on hold as we wait to see. I do believe there is a chance over the coming weeks where. The medical side can be approved by the British Boxing Board of control, and we could go back to looking at events in studios and behind closed doors.
"Boxing, for me, is that's not an ideal environment. You know, these are guys that they have to peak at the right moment. They're putting themselves through a process that many couldn't and wouldn't. And to do that, sometimes you need the energy of the arena. You need the energy of the fans. For the board of control, medically, we can't provide the necessities needed for what is a dangerous sport."
While the health and safety of the public is no doubt paramount, there is a question of how the market is going to look once things start recovering over (hopefully) the next few months.
Hearn says, at the moment, there are no long term fears for his business, but it's something he's thinking about.
"Well, I think it doesn't matter whether you're talking about boxing, football, um, you know, the stock market, the shop on the corner, everybody's going to be struggling through this situation," Hearn said.
"People are going to be spending less money. You know, the market is going to be changing. Exchange rates can be changing for us. From a logistical point of view, there'll be problems flying people in, you know, travel bans, etcetera. So to be honest with you. It's a complete mess. Every business, but every sport is a complete mess. For us, really at the moment [it] looks like a delay of a schedule so there's no immediate panic."
Comments
comments