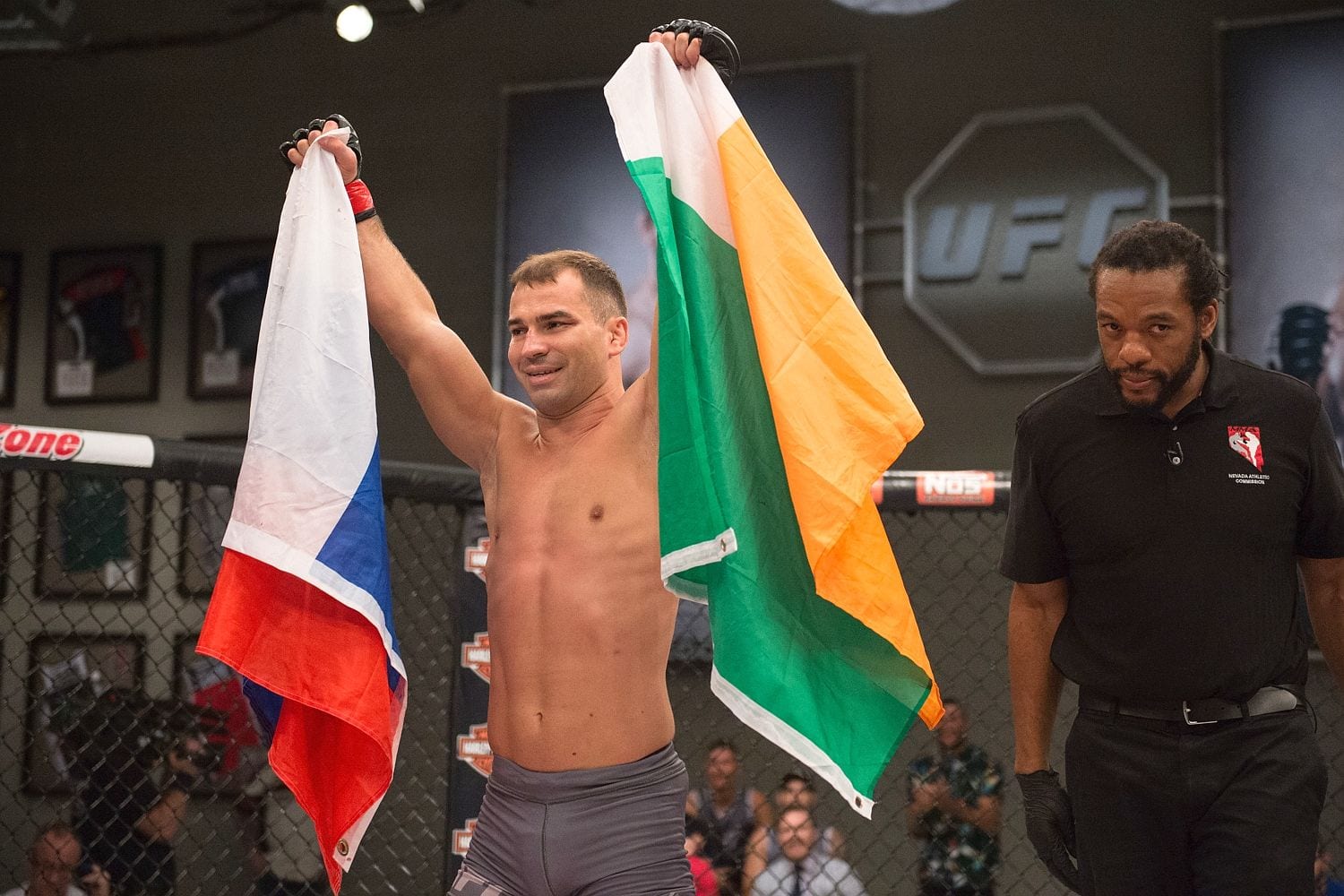 While Conor McGregor and Nate Diaz is the shining star atop of UFC 202, it's not the only occurrence of SBG and Cesar Gracie Jiu-Jitsu team members coming up against each other.
Artem Lobov, a friend and long time teammate of McGregor, faces off against Chris Avila a friend and training partner of Diaz, just a couple of hours before the main event.
On Monday's MMA Hour, Lobov went into detail about his opponent, what he thought of Avila's ability and how he expects the fight to go.
"I can see by the way he fights that he's trying to be Nate," Lobov said. "He's trying to copy the style of the Diaz brothers, which is understandable, they're the same team. But I have said this before, it's not a good style to copy. People always talk about how good Nate's boxing is, but if you look at his fights, he leaves most of his fights absolutely mangled. Blood everywhere. His style relies on being a very tough guy. It's a great style to watch, you know, I love watching his fights, but it's not a good style to copy. Especially if you're gonna face somebody like me, with the kind of power that I have… no one hits as hard as I hit in the featherweight division, so I dunno. If he wants to copy that style against me, if he wants to try and be Nate, best of luck to him.
There's one thing that always kind of amazes me about him and the whole team, [Avila's] only 20 years old… but he's got a dad bod. His cardio is really good, I dunno how they do it, it must be the munchies or something. They train hard but their diet must be horrible. I mean how is he so fat? How can they look so fat? I can never understand that, how can you look so fat and have such good cardio. This is one of the things that always kind of confuses me."
And does the team vs team nature matter?
"Absolutely. You've seen all the press conferences, I took that one personally. They're saying "what's the quality of your training partners?" Okay that's fine they questioned it. I never doubted the quality of Conor's training partners because the results were there. He's the world champion. But you know, they said it, they want some proof, they feel their training partners are better, they set this fight up, lets find out.
"That's the beauty of this game. You don't need to wonder. We'll find out. It's very easily done."
How do you see the fight panning out?
"I think I'm stopping this guy. I'm going out to destroy him. I'm going to break his legs in the first round, and I'm going to break his face in the second. Break his legs and break his face. I've broken many faces in my time if you don't believe me, on The Ultimate Fighter even, one of the guys [James] Jenkins, I broke his orbital. He didn't leave his room for days.
"This is the kind of power I have, I hit you; your face is broken. That's it.
Comments
comments