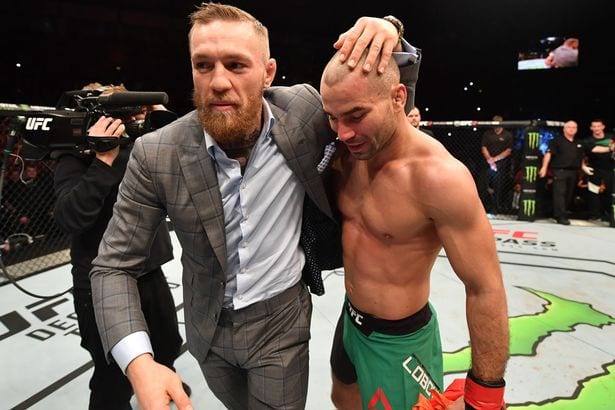 When Conor McGregor announced he had offered to fight Frankie Edgar at UFC 222, there were wide reactions amongst the MMA fanbase.
There was excitement from some areas, with the Irishman's fans happy to see him firmly commit to a return to fighting, despite what other figures in mixed martial arts had predicted. There as disappointment from others, who were left frustrated after the UFC didn't take McGregor up on his offer.
And then, perhaps unsurprisingly, there was skepticism as well. But, if you don't believe McGregor seriously offered to meet Edgar in the cage on March 3, then his longtime teammate Artem Lobov wants to let you know you're wrong.
"[The fight was] very close. Very, very close," Lobov said, speaking on MMAFighting's The MMA Hour. "It was real, 100 percent. Conor was ready to go, that was it. We were just gathering the troops already, we were ready to go. We were planning what we would do. We would just fly off to Vegas straightaway to do this short little camp. Plans were in place and everything — everything was ready to go.
"Conor wanted to fight. I was talking to him the whole time, and he was ready to go and show the world what he can do."
Unfortunately for those who would love to see McGregor vs. Edgar finally take place, the UFC felt that a McGregor return on short notice wouldn't be best for business, not giving them time to properly promote the event.
"To the best of my knowledge, UFC weren't really all for it because it was really short notice and it wouldn't give enough time to build the fight," Lobov said. "From what I heard, that was the main reason for it."
Comments
comments