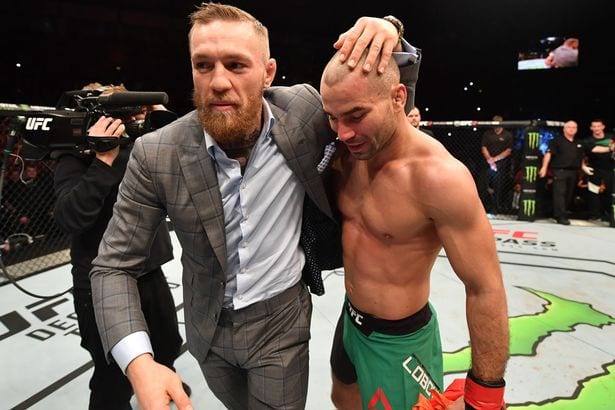 Artem Lobov has been around Conor McGregor for years, and if there's one thing he's certain of, it's that the man loves to fight.
So, when McGregor announced his retirement from mixed martial arts last week, The Russian Hammer was a bit reluctant to believe we'll never see the Irishman put on the gloves and fight again in the future. Because, as Lobov said on the Ariel Helwani MMA Show earlier today, no matter how much financial gain McGregor's made in his career, his affection for the world of fighting will keep him invested.
"One thing I do know, I know that Conor absolutely loves the fight game," Lobov said. "He truly loves it. And I always say this, 99% of the UFC would have been gone if they made 100 million. They just wouldn't be there anymore. And he's still there, why? Because he loves the fight game. He loves fighting. I know he's got something special in store for us.
"I think he'll put away a few more guys," he continued. "I just know him. I know he loves this game. He loves the fight game. This is his — it's not just a job to him. This is him. He lives the fight game."
Since McGregor's announcement, UFC president Dana White has gone on record and acknowledged the fact McGregor feels he deserves compensation in the form of shares in the UFC organisation. While it would be an unprecedented move for the company to agree, time and time again McGregor has broken barriers in mixed martial arts, leaving Lobov feeling as if McGregor is justified in his requests.
"This is a business, [the UFC] realize they are fighting for every percentage there," Lobov said. "When it comes down to Conor's fights, even one percent means millions and millions and millions. But in my eyes, of course he deserves a percentage of the UFC. Look at his last fight, it was two and a half million [buys], and the same year there was a pay-per-view card with 80,000 pay-per-views sold. That speaks for itself. He is the reason why the company was sold for $4 billion. So why shouldn't he get a piece of that?
"And for anybody who says well then everybody will ask for that, no they won't, because you tell them, 'Show me your numbers'. You get a piece of the pie you bring in. That's fair. If you arrive with a pack of peanuts, you can't expect to eat a steak, but if you're killing a whole deer like Conor is, of course you deserve a nice juicy piece of steak. He should get it."
–
Comments
comments