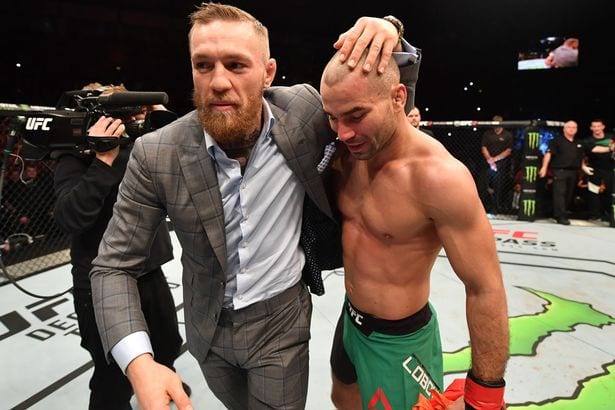 When Conor McGregor's teammate Artem Lobov got booked on UFC 223 — a card main event by Khabib Nurmagomedov vs. Tony Ferguson — there were some suggestions the UFC could have intentionally added Lobov to the card so as to help guarantee McGregor's appearance at ringside.
After all, by now, it's well known when Lobov competes, McGregor is more than likely to be positioned just outside the cage offering his support. From the UFC's perspective, what better way than to coax the Irishman into appearing in person as Nurmagomedov and Ferguson face each other to cement the next contender to McGregor's belt?
Certainly, Lobov believes it could have been a factor in the promotion's decision making.
"I guess that probably played a part," Lobov said, speaking with RT Sport. "For sure they would like to see Conor in the arena when Khabib and Tony fight. They did this before his fight with [Jose] Aldo. When Aldo was fighting [Chad] Mendes, they flew Conor to Brazil, so he would watch the fight live, in front of them. And then he fought Aldo later on, the same year. So I guess it's a history repeating itself again."
Not that you'll hear Lobov complaining. While he originally suspected he'd be meeting opponent Alex Caceres at UFC London on St. Patricks Day, the opportunity to fight in New York isn't something he'd turn down — especially considering Lobov's adopted Ireland and native Russia have such a large influence there.
"I wanted to either fight at UFC London or else UFC in Brooklyn," he said. "I want to fight in front of my fans. And those were the best options. London has a big Russian and Irish community. And Brooklyn has probably even bigger Russian and Irish communities. So I look forward to putting on a show for my fans and fighting in front of my crowd."
Comments
comments