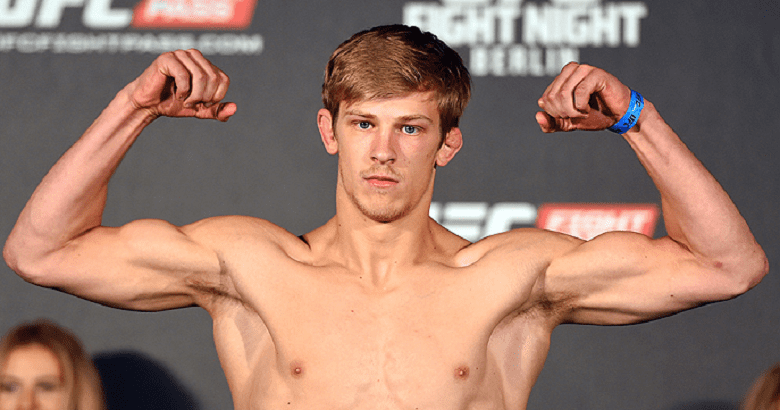 Arnold Allen envisioned winning his debut UFC main event — but not quite exactly how it went down on Saturday night in the UFC Apex.
Allen extended his professional record to 19-1 (10-0 UFC) in what was his highest profile bout to date but it came about after Kattar was unable to continue early in the second round after suffering an injury in the first which appeared to happen as a result of Allen's footwork eluding a jumping attack from the American featherweight.
Speaking afterwards, Allen said that he had designs of calling for a 145-pound title bout, either undisputed or interim, but said that the manner of his victory complicated things somewhat.
"Yeah, [I wanted to call Volkanovski out], because obviously there was the injury with Yair [Rodriguez] and Brian [Ortega], and then Calvin and [Josh] Emmett, it was a real close decision," Allen said post-fight, via MMA Fighting.
"So I wanted a performance to stand out so I could actually ask, like, 'Look, this deserves it more than that and that.' But now, I'm in the same boat, we might as well just all hang out together and talk about it.'"
The 145-pound division is set to be sidelined somewhat given that it is expected that champion Alexander Volkanovski will be heading to 155 to take on Islam Makhachev, but Allen says he has trouble surveying the list of contenders haggling for number one contendership in the Autralian's absence.
"It's hard to say who deserves it, so I don't know — whoever," he said.
But as for his win, Allen said it was all going according to plan early in the first round, but added that he hopes Kattar is able to get back in there as soon as possible.
"Bittersweet, but the things were going right in the first round — everything was going as I planned, as I had trained, but it is what it is," Allen said of the fight. "It's the sport we're in. Hopefully his injures aren't bad and he heals up quick."
Comments
comments