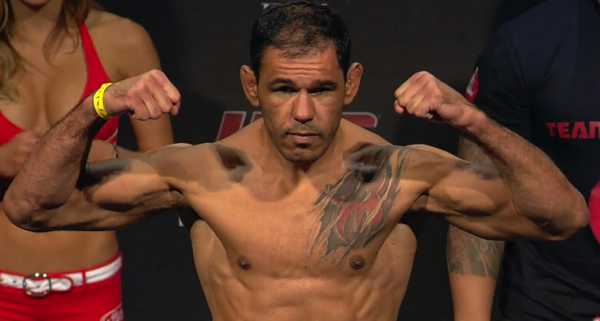 Antonio Rogerio Nogueira, perhaps better known as Lil' Nog, has been notified of a potential doping policy violation through USADA.
Nogueira's violation comes from an out-of-competition sample collected on September 27 of this year. Nogueira was scheduled to compete at UFC Fight Night in Winnipeg on December 16 against Jared Cannonier, but has been pulled from the card as the UFC look for a replacement.
Upon hearing the news, Nogueira took to his social media to offer his side of the story, saying that a diuretic had been found in his system, although he had no explanation as to how it arrived there.
"Students, fans, friends, family: to all who are always by my side, I am here speaking to you," Nogueira said. "Today I was surprised by the USADA – dopping control organ – that appeared a diuretic substance in my exams. I am here to try to clarify because we do not have all the explanations yet, but from now on we will investigate this situation thoroughly, I have told all of you that I am confident in my innocence and we will actually find out what happened, and defend myself in the hour timely.
"I've always played the rules, I'm a veteran fighter and I've been in the sport for a long time; and I want to always set an example for the younger ones who mirror the career I built and would never get involved with something unlawful to improve my performance or gain any advantage. I have never needed to take a diuretic, everyone who accompanies me mainly my coaches, know that I never had any difficulties to lose weight and this is the function of the diuretic.
"As soon as the UFC marks my fight, I start a process of diet and training for precisely, at the end of the camp does not suffer with the weight loss. It is very difficult going through this, for me I have always been honest, and especially with my work, that I dedicated myself and still dedicate myself with much love.
"On account unfortunately my fight was canceled, I was very sad about it all, but I hope as soon as possible to clarify this misunderstanding and give spectacular fight to all of you.
Thank you all for your support and respect for me."
Nogueira is considered a legend of the sport, although his fortunes have faded lately. At 41-years old, his days in the sport are likely numbered, and a suspension from USADA could well spell the end of his career.
Comments
comments