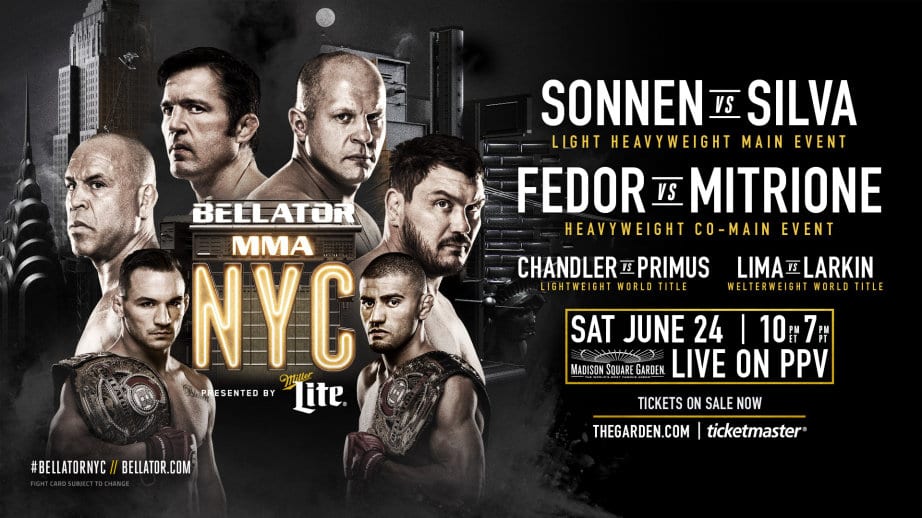 The biggest event(s) in Bellator MMA's short history is just around the corner, after the fighters involved in the tentpole fights for Saturday night's double-header card in Madison Square Garden were made official following Friday's early weigh-ins.
Both Chael Sonnen and Wanderlei Silva, the headliners of the pay-per-view section of the broadcast, clocked in on weight for their light heavyweight grudge match at the top of the bill while Fedor Emelianenko will give up more than 20-pounds in weight for his co-main event with Matt Mitrione.
SBG's James Gallagher, who fights in the co-main event of the Bellator 180 card which takes place prior to the PPV, came in on championship weight for his featherweight bout with Chinzo Machida. The Japanese/Brazilian registered the upper limit weight of 146-pounds.
20-year-old Gallagher will look to move to 7-0 in his career (and 4-0 in Bellator) with a win against a fighter twice his age on Saturday. The Irishman, along with the likes of Aaron Pico, Brent Primus and the highly-rated Heather Hardy, represent Bellator president Scott Coker's investment in youth to stand alongside some of the more established names on the roster and in Gallagher's case, the contrast between his youth and the experience of Chinzo Machida is sharp.
And, as Gallagher said to TheMacLife.com in April, he won't freeze when facing down the fighter more than twice his age.
"I've got respect for him but make no mistake, I'm going out there to put him away. It's not like I'm going out here to shake hands with this guy. I respect him but he's in my way."
The full Bellator NYC & 180 weigh-in results:
Note: Some fighters have not yet made weight at time of publishing
BELLATOR NYC
Chael Sonnen (205.8) vs. Wanderlei Silva (205.8)
Fedor Emelianenko (236.4) vs. Matt Mitrione (256.6)
Champ Douglas Lima (170) vs. Lorenz Larkin (169.8) Welterweight championship bout
Champ Michael Chandler (153.8) vs. Brent Primus (154.2) – Lightweight championship bout
Zach Freeman (155.8) vs. Aaron Pico (156)
BELLATOR 180
Champ Phil Davis (204.8) vs. Ryan Bader (204.4) – Light heavyweight championship bout
James Gallagher (144.4) vs. Chinzo Machida (146)
Neiman Gracie (170.4) vs. Dave Marfone (170.4)
Heather Hardy (125.2) vs. Alice Yauger (125.6)
PRELIMS
Ryan Couture (168.8) vs. Haim Gozali (169.2)
Jerome Mickle () vs. Anthony Giacchina ()
John Salgado (168.2) vs. Hugh McKenna (168.8)
Matt Rizzo (133.6) vs. Sergio da Silva (137.6)
Nate Grebb (155.4) vs. Bradley Desir ()
Comments
comments