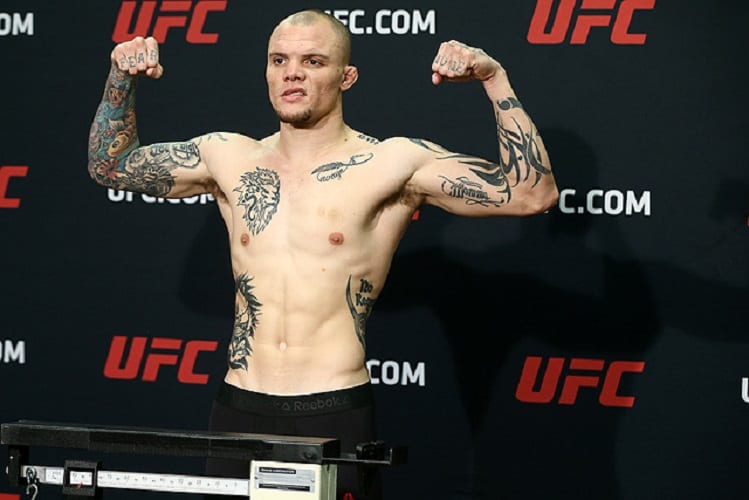 Anthony Smith has had a career defining year in 2018. 
Previously thought of as a journeyman fighter, Smith's move from the middleweight division to the light heavyweight division has brought him a trio of impressive wins this year against Rashad Evans, Mauricio 'Shogun' Rua and, last weekend at UFC Moncton, a main event finish of former title challenger Volkan Oezdemir.
The light heavyweight division appears tied up at the moment, with Jon Jones and Alexander Gustafsson set to meet later this year for (what will be the) vacant 205-pound title and with current champ Daniel Cormier expected to retire in the first quarter of next year, that leaves a gap open among the division's top contenders that Smith is only too happy to fill.
And his first order of business? He wants to be the first person to hand Jon Jones a real, non-DQ loss in the octagon.
"I just took out the No. 2 guy in the world. I've finished two former world champions back-to-back and then the No. 2 contender," said Smith on The MMA Hour via MMA Fighting.
"The No. 1 contender's fighting for the title and I think that Daniel Cormier has all but left the division. I don't think that he's coming back to 205. I don't know who else would be in front of me. I don't know who else is a legitimate threat to either one of those guys, no matter who wins the title. You might be able to throw (Ilir) Latifi in there, but if Gustafsson wins [against Jones], then that's definitely out the window.
"So, I genuinely believe that I'm the only legitimate threat to either one of those guys. And I'm finishing people. There's guys who are winning, but I'm finishing guys."
However, if it is up to him there is one man he would like to face.
"I'd rather fight Jon Jones, because no one has a legitimate win over Jon Jones, and that's the stuff that really gets me up," Smith said. "Deep down, I truly believe that I can beat Jon Jones. But deep down, I know that I might not be able to — and that's what drives me. That's what motivates me. I've been thinking about Jon Jones since I've been at 205.
"It's never been about 'Shogun' or Rashad or even Volkan. It's trying to get through as many people as I can get through to get to Jon Jones.
"People can say all day that doubt is a bad thing, but I don't think that it is," Smith added. "I think doubt motivates people, depending on who you are. I think that Jon Jones being the tallest task in the entire UFC will bring the best out of me, and I think that one of my biggest downfalls is that I tend to fight to my opponent's level, and fighting up to my opponent's level is always going to be a positive.
"You hear people talk bad about fighting to someone's level when you're fighting down to them, but I think that I'm one of those guys that I just rise to the occasion when I need to, and I think that I would do the same with Jon Jones.
"It's just, that's not his style. He's super crafty, he's dynamic, I think he has a high fight IQ, but I think that he's hittable, and I think that I match up with him size-wise pretty well."
Comments
comments