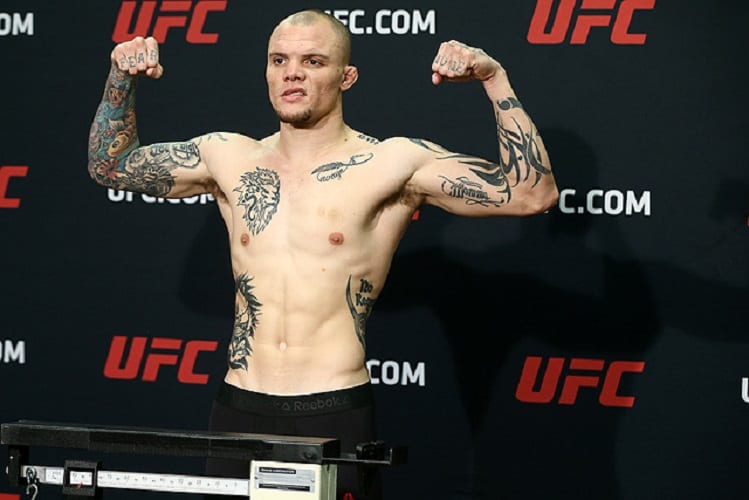 Prior to UFC 239, Anthony Smith and Luke Rockhold made no secret of their contempt for each other. In Rockhold's eyes, Smith was a technically weak fighter who got too much traction for his abilities, and in turn Smith felt Rockhold was an arrogant man and unnecessarily petty.
That being said, Smith does have some regrets about taking to his social media to mock Rockhold's defeat at the hands of Jan Blachowicz. After Rockhold was knocked out during his first fight at 205-pounds, Smith sent a few tweets into the world making light of Rockhold and his former jibes.
Not that Smith is taking the comments back or anything.
"I know I came off as an asshole, but I don't wish anyone gets injured. That's what it comes down to. I would have never prayed that Luke Rockhold got injured," Smith said, speaking with Submission Radio. "I wasn't even hoping that he lost. I would never wish for failure for somebody else. I wanted him to be humbled, and I think that happened. And everything I said was true, and everything that he said wasn't. You know, he said I was a bum and that Gustafsson was gonna walk through me, and he said that I don't deserve to be in this division and he just moved up because bums like me could get title shots. It ain't that fucking easy.
"I don't understand why people look at me and think, 'well, if he can do it, I can do it'. It's not like that, it's not that easy. Like, Rockhold wouldn't make it five seconds fighting the way that I fight. He doesn't have the ability to do what I do. He doesn't have the defensive skills, he doesn't have the footwork and he doesn't have the heart. I mean, once he couldn't take Błachowicz down he looked like a coward. Like, he was broken and he was gassed after two and a half minutes. It's not that easy. And I know that all these 185-ers come up and are looking at me and they're looking at Thiago Santos and they're saying, well, if they can do it, I can do it. No you fucking can't. We just had a perfect example of it, of a former champion, a guy who ran through several people at 185, move up and get starched by a bum – by his words [he said] that Błachowicz was a bum several times, he's a nobody. So, like, I just don't… I don't understand how he continues being so god damn cocky, because every time he's like this, it doesn't work out and he gets embarrassed.
"So, I don't understand it. It doesn't make any sense. Had he won, I would have loved to have gotten that fight and been the one to do that, but at this point, Luke Rockhold, it will take Luke Rockhold two and a half years to get to me, you know what I mean? He's gonna have to start at the bottom and work his way up. And I know that's probably not something he's willing to do, because his ego won't allow it. His ego won't allow him to break down the things that he's doing wrong. I keep saying his chin is shot, and maybe it's not his chin, I don't know, maybe it's just his inability to have any defensive god damn skills. But I just… I hope that he heals up okay, obviously. I hope that that he's alright, but maybe it is time Luke Rockhold steps away."
At one point, it had seemed Rockhold vs. Smith was an obvious contest to book. The pair had their bad blood, and with both being former middleweights, there was an easy angle of promotion.
Now, however Smith notes — with a knowing smile — that they're unlikely to trade blows any time in the near future. Even if he still bears his personal grudge.
"Yeah, Luke Rockhold still remains someone that I would love to slap the shit out of. He's just not a good dude," Smith said. "We know some mutual people and I've heard nothing but awful things about him, and I've heard nothing but awful things about me come out of his mouth. So, that's not how I was raised, that's not how we do it here in the Midwest, in the small town of Nebraska. You talk shit, you get hit, and that's how it goes. But I'm also an adult, so I understand that that's not exactly how things go all the time, but I would have loved to have been the one to do that to him.
"On the flipside, it's kind of a 'serves you right bitch' moment. Talk all that shit. You couldn't beg your way into a fight with me right now. You know, coming off a win, even then the UFC didn't like it. I was already waiting for that fight, and as soon as Rockhold got that win, we were gonna go into those negotiations and figure out where and when, and the UFC didn't even like it. They didn't like the fact that I was gonna fight a guy that wasn't even ranked and may or may not be coming off a win over Błachowicz in his first fight. UFC didn't even like that shit. My family didn't like it, my manager didn't like it. I just wanted it. Sometimes you just gotta do something you really want to do, not that you have to do. And sometimes it doesn't always have to make sense.
"So, it would have been nice to fight him, but at the same time, I know he's sitting at home feeling really god damn stupid. At least as far as when it comes to him and I, I know he feels really stupid and he regrets saying all that shit."
Comments
comments