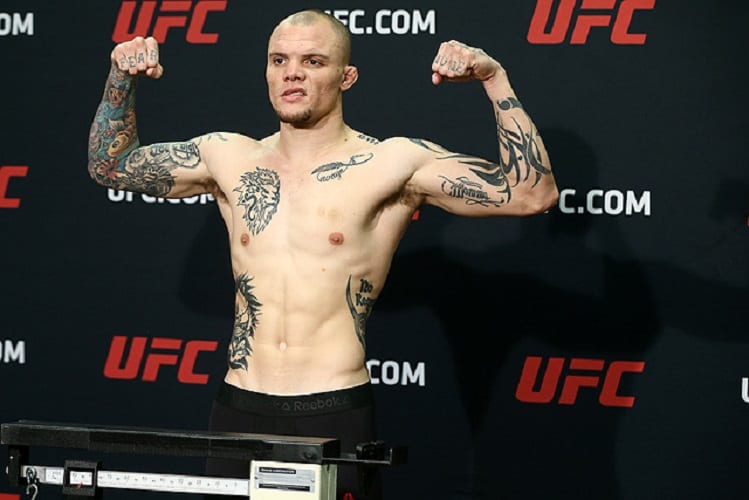 If Anthony Smith was anticipating a swift return to the octagon following his submission victory against Alexander Gustafsson at the start of June, the hand injury he suffered in the fight has removed that possibility. 
The hand which he broke in the fight was initially expected to require a recovery time of around four months which could have led to a return before the end of the year — however a second surgery required has ruled out that possibility.
"[The first surgery] went well initially but a week and a half ago I had another [surgery]. The first one wasn't successful so we had to do another one about 10 days ago. I'm back on the horse starting over again and trying to stay positive," Smith revealed to MMA Fighting.
"The bone, the first metacarpal was completely snapped and displaced. Part of the bone had started peeling back because I kept throwing it during the fight. So they went in and put a plate on it, fixed a lot of the scar tissue and stuff like that. They fixed all that.
View this post on Instagram
"I don't know exactly what happened but the bone displaced again and that broke the plate so they had to go in and replace the plate, put in a new one. Take bone graft from my leg so I got two holes drilled in my leg. So it's been a mess. I was out about four months from the beginning so we kind of restarted that four months a week and a half ago."
The time on the sidelines, Smith says, will be spent productively but when full fitness is resumed 'Lionheart' intends to be ready to once again make his mark.
"This summer was for my kids and my fiancée because they deserved it. It's time to get back to work now. I'm going to put my head down and get back involved," he addied.
"I need to be smart about my recovery and make sure I'm not doing anything I shouldn't be doing and pushing it when it's not ready. Fortunately, I put myself in a position where I can sit as long as I need but you know me, I'm not going to sit any longer than I have to. That's for damn sure."
Comments
comments