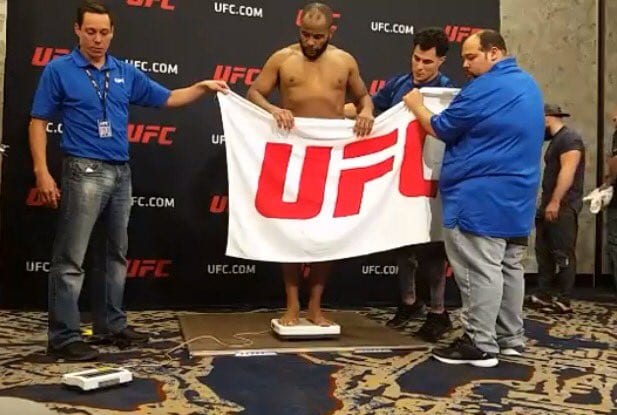 Daniel Cormier's incident with the towel incident at UFC 210 isn't over yet.
Cormier appeared to use a towel to gain leverage and lose the last pound to make weight at the event last weekend, after weighing in at 206.2-lbs just moments earlier. While his opponent for that contest, Anthony Johnson, didn't wish to draw attention to the issue, he has now filed an official appeal with the New York Athletic State Commission.
But, while it was already known Johnson would be asking for 20% of Cormier's purse (a standard punishment for any situation where one fighter misses weight), not many expected him to request Cormier lose his UFC light heavyweight championship.
The appeal (transcribed by MMAFighting) states:
"While Mr. Cormier's weight loss of 1.2lbs is within the acceptable guidelines, the time it took him to lose it, less than 2 minutes, should have raised some concern and the scrutiny of the medical officials at the weigh-in. Losing 1.2 lbs. in 2 minutes, which calculates to over a 30lb. weight loss per hour, not only violates the letter of 19 NYSCRR 208.14 but the spirit of it. Mr. Cormier should have been examined by the medical officials assigned to the weigh-in to ensure that he was physically fit enough to fight the next day and to explain how he achieved such a substantial weight loss in so short a period. Since he was not required to do so on April 8, 2017, the NYSAC should require him to do so now, particularly considering his curious towel holding while on the scale.

"It is clear, that in the state of New York, a fighter must weigh in and conduct himself in the best interest of the sport. Not only do both fighters deserve to be absolutely sure that his/her opponent has weighed in and made their contracted weight, but the general public and sport of mixed martial arts require that a fair and honest weigh-in is conducted for the integrity of any fight. Unfortunately, in the case, Anthony Johnson, the general public, and the sport of mixed martial arts were deprived of a fair and honest weigh-in and a true championship fight when Daniel Cormier was allowed to grab the towels held in front of him for privacy purposes only while his official weight was being determined.

"Daniel Cormier is a well decorated wrestler having wrestled, starting in high school, and all the way up to the highest level in the Olympics. He has had 20 professional fights. Before each and every wrestling match or professional mixed martial arts fight, Daniel Cormier was required to weigh in and meet an agreed upon weight. If he failed to do so, he was aware of the consequences. Given this illustrious wrestling and fighting history, Daniel Cormier keenly understands the importance of a fair and honest weigh-in, yet he chose to, inexplicably, grab the towels in front of him while on the scale. He must be called upon to explain, under oath, to the NYSAC, Anthony Johnson, the general public, the UFC, his fellow fighters, and the sport of mixed martial arts, the reason for his actions at the weigh-in on April 8, 2017.

"After such sworn testimony, if Mr. Cormier could not, would not, or did not satisfactorily provide an evidence and fact based explanation for his conduct, then he should be disciplined for his action by the NYSAC to preserve the integrity of the sport. Should Mr. Cormier be subject to discipline, while it is clear he could be suspended for his actions, at a minimum, Daniel Cormier should be ordered to pay 20% of his fight purse to Anthony Johnson and should be stripped of his UFC Men's Light Heavyweight Title for failing to make weight on April 8, 2017."
Comments
comments