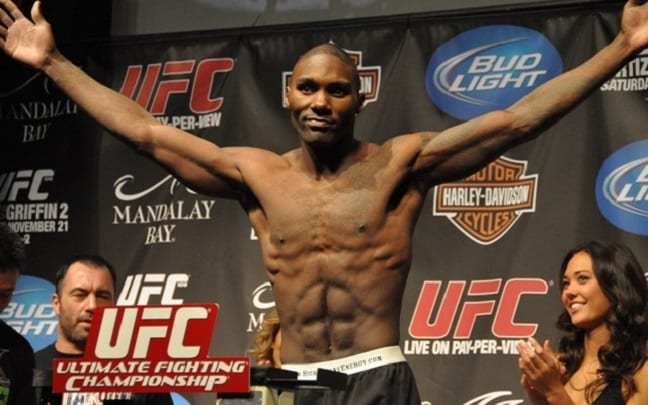 It is almost ludicrous to consider it nowadays but Anthony 'Rumble' Johnson, a two-time challenger to the UFC light heavyweight title — and who holds a win against Andrei Arlovski at heavyweight — fought the first 13 bouts of his career as a welterweight.
Now retired from mixed martial arts following an unsuccessful bid to prise the 205-pound title from the grasp of Daniel Cormier last April, Johnson took to social media on Thursday to hark back to the time when he was a card-carrying member of the UFC's 170-pound fold.
"Back in the 170 lbs days," Johnson wrote on Instagram alongside a photograph of him as a welterweight. "Thank God that's over with! I'm surprise [sic] that I didn't hurt myself trying to make that weight.
Johnson's welterweight career was not without its hiccups. He missed weight on two occasions in bouts with Rich Clementi and Yoshiyuki Yoshida, as well as failing to make his contracted weight for a middleweight debut against Vitor Belfort in 2012. 'Rumble' was considered by most to be the hardest punching fighter at 205-pounds, power which was evident during his welterweight run too.
He scored knockouts against Chad Reiner in his maiden fight with the UFC (after 13 seconds, too), as well as finishes against Tommy Speer, Kevin Burns, Luigi Fioravanti, Yoshiyuki Yoshida and Charlie Brenneman, while losing submissions to both Rich Clementi and Josh Koscheck.
Eventually wisdom prevailed and he moved to a division more suitable to his size (and which required much less of a weight cut) before embarking on a run first at heavyweight and ultimately at light heavyweight.
The practice of weight cutting has come under fire in recent times as fighters and fans alike become more aware of the dangers it can cause to an athlete's health. Several steps have since been taken to heighten the safety of weight-cutting, such as having the weigh-ins on the morning of the day before an event to allow fighter's more time to rehydrate.
Last week, UFC officials pulled lightweight Gilbert Burns from a card in Orlando, Florida, after medics determined that he would have likely had to participate in an unsafe weight cut in order to make weight for a bout with Olivier Aubin-Mercier.
Comments
comments