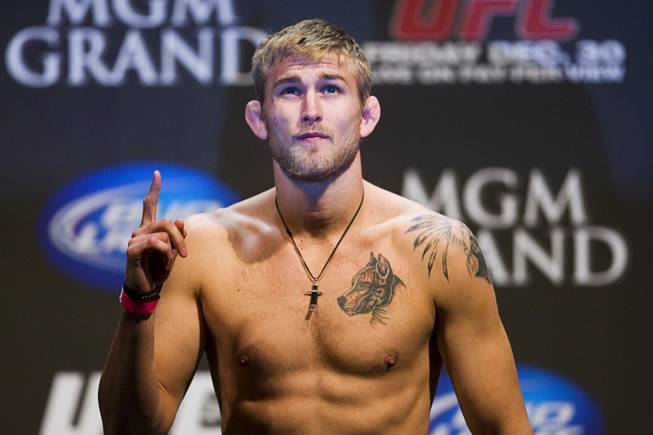 The current state of the UFC's light heavyweight rankings have prompted two-time 205-pound title challenger Alexander Gustafsson to consider a move to the heavyweight division.
With champion Daniel Cormier otherwise engaged with a dalliance north to challenge Stipe Miocic for the heavyweight title later this year and Jon Jones nowhere to be seen for what will likely be some time, the timing seems ideal for a new contender to emerge from a 205-pound fold which has been in search of new blood recently.
Ilir Latifi might just be that man. The Swede, who has won five of his last six at 205-pounds, has broken into the top five in the official light heavyweight rankings following an impressive submission win against Ovince St. Preux last weekend — but his newfound ranking might just pose more questions than answers for the 34-year-old.
Alexander Gustafsson, considered by most to among the elite at 205-pounds, is currently the division's #1 contender and with Cormier temporarily out of reach, that would leave Gustafsson looking elsewhere in the top five for his next bout. The thing is he doesn't want to fight compatriot Latifi or training partner Jimi Manuwa, currently ranked 4th.
Rumours suggest that Volkan Oezdemir and Glover Teixera, the third and fourth ranked fighters, are set to face each so with no immediate opponent apparent, Gustafsson is toying with the idea of following Cormier up to the heavyweight division.
"It's a bit of a tricky situation," Gustafsson said to Viaplay Fight Week of his relationship Manuwa and Latifi, via MMANytt. "We're teammates, we are friends — close friends — first and foremost and we won't fight each other. I want to start our discussion by making it clear that we will not fight each other, so now you all know.
"It's a tricky situation, for sure. But I mean, we'll see what happens. [Daniel Cormier] is now going up to face Stipe [Miocic], Ilir Latifi has heavyweight as a possibility. We'll sort it out somehow. Of course we both should be able to dream of the belt and we both should get our chances to fight for the title, but we'll see how it all turns out when we get there.
"We'll see. I can move up to heavyweight, in the light heavyweight division we have Jon Jones coming back, [Daniel Cormier] who maybe is coming back or maybe not. We'll see how it all plays out," Gustafsson continued.
"But me and Ilir will not compete against each other and the same goes for Jimi [Manuwa]. Heavyweight is also an option. I'm a heavyweight today. I'm actually only a light heavyweight during one day and that's the weigh-in, after that I'm a good heavyweight."
Time will tell what will happen but one thing is for sure, a light heavyweight division which has recently hemorrhaged the talents of Jon Jones, Anthony Johnson and now Daniel Cormier would be made even weaker if a fighter of Alexander Gustafsson's calibre was to leave it.
Comments
comments