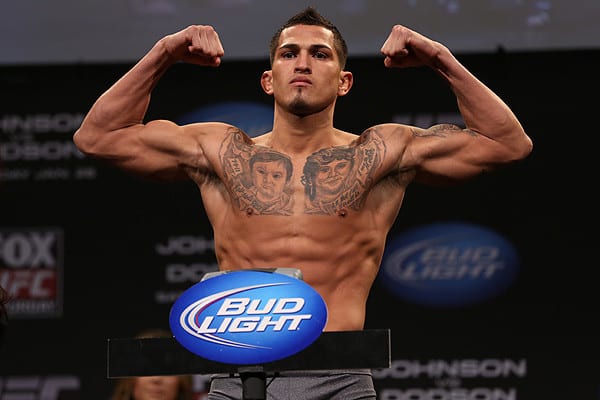 At UFC 229 last October, former UFC lightweight champion Anthony Pettis came as close as anyone has in the last six years to beating Tony Ferguson. 
Pettis started the fight strong, dropping Ferguson in an incredible scrambling sequence early in the fight, but the fight was eventually called off at the end of round 2 by Pettis' corner after discovering that their fighter had suffered a broken hand.
By all accounts it was an even fight at the end of two rounds, though Pettis maintains that he would have been the victor had he not injured himself early in the fight.
"That fight was so close," Pettis said in an interview with BJPenn.com. "If I hadn't broken my hand, I would have finished that fight.
"If you watch the fight again, the second over hand right I turned it over like a dummy and it hit that one knuckle. I got him on the ground, and he did a little front roll and then I couldn't use my right hand. I was holding it against his shoulder and tried to throw it once and I'm like 'oh this feels uncomfortable.' That is why he got up is because I had no grip."
Pettis has now opted to move up to the UFC's welterweight division where he will face Stephen Thompson in what should be an eye-catching fight on March 23, though he admits he is unsure as to what his move would have been had he earned the victory against the top-ranked Ferguson in October.
"I don't know. I know were my skill-set is at," Pettis said. "That fight I got five weeks notice. They called me five weeks out and said 'hey you want to fight Ferguson.' I'm like 'hell yeah.' Like I'm not afraid to fight anyone in that division. I feel like I gave the fans what they wanted but I couldn't catch the break I needed. I was right there and my hand breaks."
Comments
comments