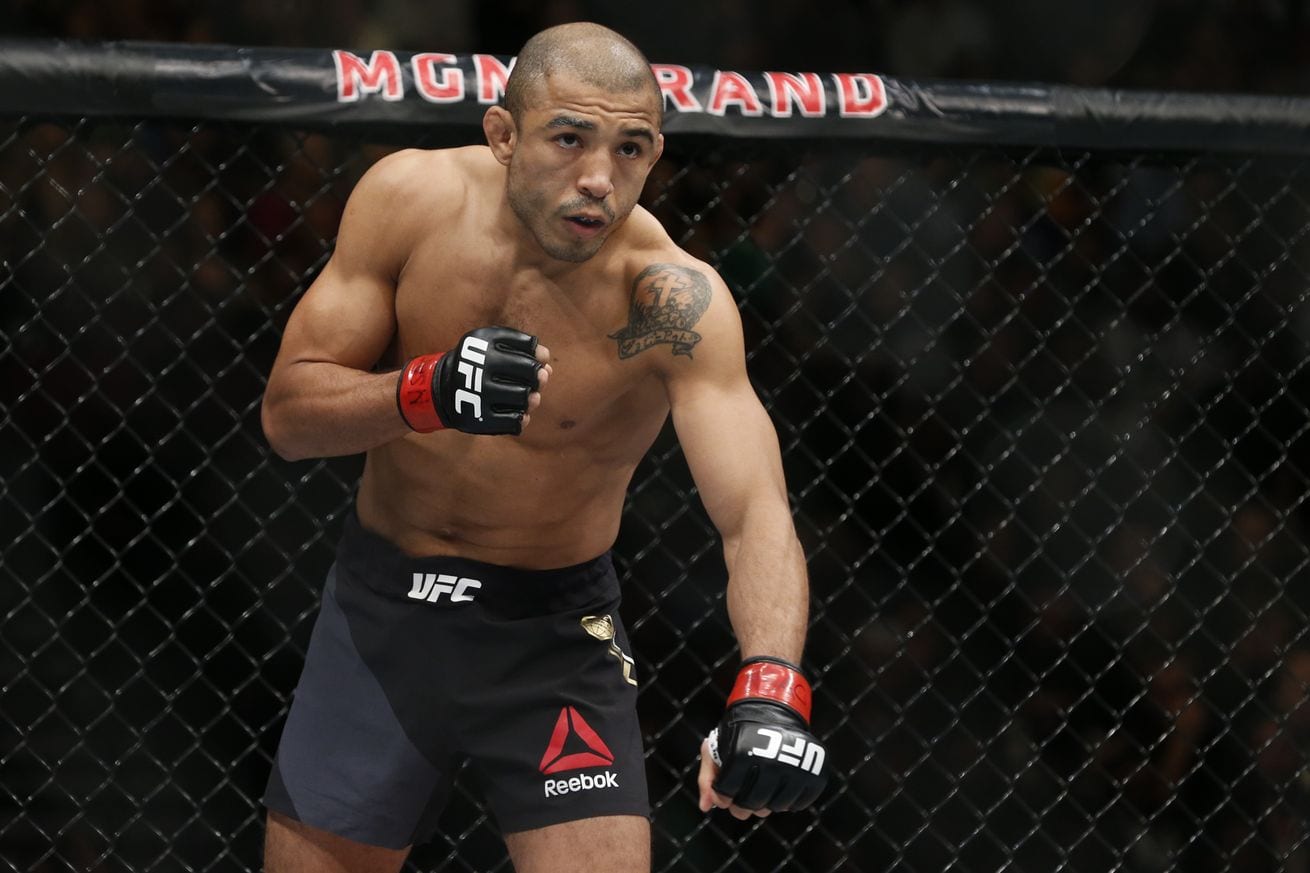 Jose Aldo will likely end his legendary mixed martial arts career with a final fight in Brazil in January, according to his longtime coach Andre Pederneiras.
Aldo, 36, had won three straight fights and was pursuing a potential bantamweight world title shot before he dropped a close unanimous decision defeat in his August fight with Merab Dvalishvili, and according to Pederneiras the timing is right for one of the sport's most influential figures to hang up his 4oz gloves once and for all.
Speaking with Brazilian outlet Combate, as noted by MMA Fighting, Pederneiras said that the former UFC featherweight champion has just one fight remaining on his UFC deal and that he considers January's UFC event in Rio de Janeiro as the appropriate stage for his fighter to step away from the sport.
"I'd tell him to stop. I think Aldo has already conquered a lot and it won't be this last fight [against Dvalishvili] that will take away his legacy in the sport," Pederneiras said. He added, though, that Aldo must fight out his UFC deal if he has ambitions of competing in boxing or Muay Thai, given that walking away with one fight remaining on his deal would tether him to the UFC for an extended period.
He also stated that he sees someone of the calibre of Dominick Cruz as being a fitting opponent for Aldo's final career fight. Both Aldo and Cruz were champions in the WEC and UFC, and are considered to be among the best lighter-weight fighters in history.
And as for whether or not Aldo stays retired or pursues opportunities in other sports, Pederneiras admits that it's sometimes difficult for combat sports athletes to stay away from the fighting.
"I've seen many retire and want to fight years later," Pederneiras admitted. "Most of them are like that. Thales [Leites] left the UFC, fought his last fight against Hector Lombard, [and said] 'brother, I don't want this sh*t anymore'. Two, three years have passed, and now he's calling me to get him a fight. I've seen that my whole life. And it will happen with him."
Comments
comments