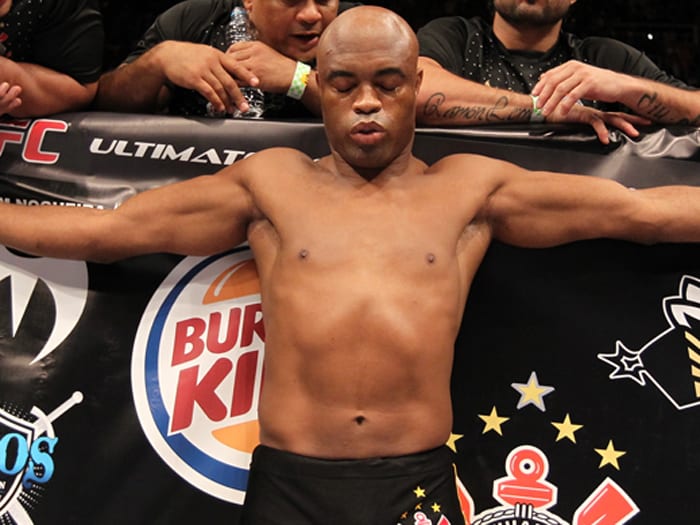 While he is still considered one of the most elite athletes to have ever set foot on the octagon's canvas, most commentators would likely consider Anderson Silva's best days behind him in the UFC.
But this isn't necessarily a sentiment that Silva himself agrees with.
In recent days, The Spider has been waxing lyrical about how he believes he won the bout with Michael Bisping last February in London — a fight which proved to be the kindling which would set Bisping towards his first world title inside the UFC.
Silva appears to have a decent case. Towards the end of the third round, Silva landed one of his telescopic knees on Bisping moments before the round ended which slumped the Mancunian to the canvas as the buzzer sounded. The timing, however, was fortuitous for Bisping who was allowed a minute to compose himself before reasserting himself into the fight.
Despite ultimately losing a decision in the fight, Silva, who faces Derek Brunson at UFC 208 in Brooklyn, feels buoyed by the performance he put in against the current UFC middleweight title holder and feels that he could regain the gold — but not if it means standing in the way of his compatriot Ronaldo 'Jacare' Souza's own journey to the 185-pound title.
"I'm rooting for (Souza) to get the opportunity to fight for the belt," Silva said to MMAJunkie.com via Combate News. "If it doesn't happen and I get that opportunity, of course I want to fight. Regardless of belt, but of course it'd be better to fight for the belt and beat Bisping.
"But I probably wouldn't keep the belt. I'd give it away. I wouldn't fight, because it would get in the way of 'Jacare's journey. So if I fought for the title and won, I certainly wouldn't keep it, I'd vacate it for sure."
According to Silva, though, a potential fight with Bisping might never be a possibility as Silva is eyeing a move DOWN in weight — despite competing at light heavyweight as recently as UFC 200. He has even done a test weight cut.
"The lowest I made was 77.9 kilos (171.7 pounds)," Silva explained. "So I think it would be a possibility, but let's wait."
The Spider maintains he doesn't yet know which step he will take next in his career, but the Bisping rematch remains alluring for the Brazilian.
"I'd really like to fight (Bisping)," Silva said. "Regardless – and I'm not talking about 'Jacare,' we're not talking about the sport itself right now, we're talking about merit for time (served) – I think I deserve to fight Bisping for the belt. Or regardless of belt, but I think I deserve to fight for the belt for all I've done for the sport.
"But I don't think that's something that will change my life if it doesn't happen. 'Jacare' is right there in line, he's fighting and pursuing this, but the UFC is a business. And, for the business, I believe that the fight that would sell a lot would be the rematch against Bisping for the belt. But, judging by the rule of the sport, I think 'Jacare' is the guy who should fight for the belt."
Comments
comments