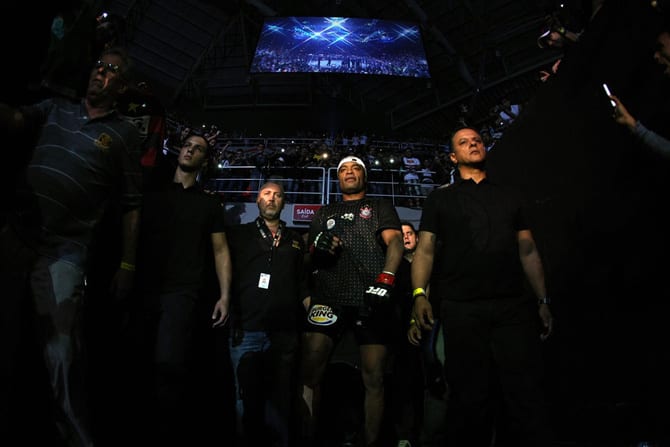 One of the most iconic walk outs in mixed martial arts is getting a change.
In a world of unspectacular song choices, similar aesthetics and limited uniqueness, few UFC entrances ever truly become memorable. One of those that did, however, was Anderson Silva's accompaniment by "Ain't No Sunshine" by DMX.
With slow haunting tones filling the arena before the "Spider" gets to enact his own particular style of violence, it's truly one of the sports great entrances to the cage — and now, Silva has put it to bed, Brazilian media outlet Globo reports.
Instead, Silva will now be entering the cage to the sounds of his own son Kalyl Silva, a rapper. The song titled "Doom" features lyrics regarding Anderson, and is one of the featured tracks on what the younger Silva's first album, which he hopes to be released soon.
"Some parts talk about my father, others do not. It's a song that talks about battles, overcoming, fate," Kalyl said to Globo.
At 41 years old, Silva has made frequent references this week to just wanting to enjoy himself in the sport while he is still able to compete, and while the loss of a classic entrance will no doubt sadden fans, perhaps this new sound will be a representation of the newest stage in the UFC legends career.
Comments
comments