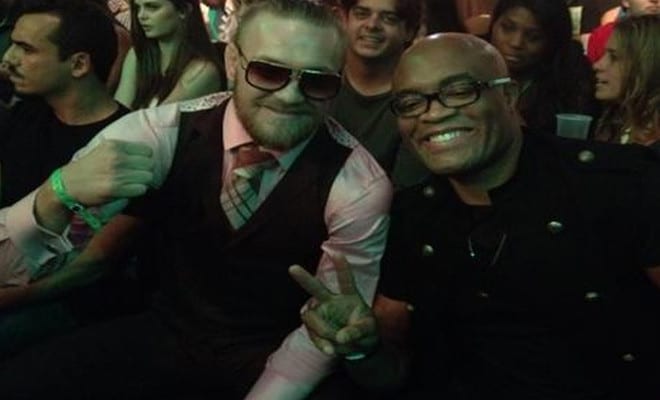 High praise comes from high places. So when Anderson Silva, the man regarded as possibly the greatest fighter in the history of mixed martial arts, says he believes that Conor McGregor is the best technical striker in the UFC, it's hard to ignore it.
"This is a personal challenge for my life, because Conor in my opinion has the best stand-up technique in the UFC," Silva said, speaking at the UFC 208 media day. "For me, I think it's a good challenge for my technique and for my martial arts technique and stand up. I think this is the great fight in my mind, but I don't know. One day, maybe."
Silva has mentioned McGregor several times over the past few weeks, making no secret of his desire to face the Irishman inside the Octagon in what he considers an opportunity to test his striking skills. While Silva would be much the bigger man — something that seems to have many somewhat perplexed by the whole thing — he claims that there is a catchweight option that he would be willing to reach in order to get the fight signed.
Citing a test cut that got him as low as 174-pounds, the former middleweight champion believes McGregor could be enticed back up to welterweight, the division in which he had his legendary pair of bouts against Nate Diaz.
While McGregor has kept his opinion on the potential bout somewhat quiet, he did show his surprise at Silva's repeated callouts at a recent Q&A session in Manchester.
"You see Anderson? What's Anderson talking about? What the fuck is Anderson Silva talking about? He keeps mentioning my name over and over again," McGregor said. "Look, I'll fight any one of them. Make sure the numbers are right, make sure the situation is right. I'll fight any one of them at any given time."
While Silva still wants the fight with the Irishman, McGregor has made it clear that he considers his main goal a boxing bout with Floyd Mayweather, something Anderson has previously said he should go for — although today provided a little warning.
"Conor is the best now," Silva said. "I think Conor broke the records, broke everything, and [the Floyd fight] is a new challenge for Conor. [But] it's a different sport. This is no simple guy. Mayweather is no simple guy, is no MMA guy. This is different sport.
"I train box[ing] for long time in my life. And when I go to sparring with the professional guys it's so different. the timing is different, the movement is different. the people need to respect both sports, but boxing is different."
Comments
comments