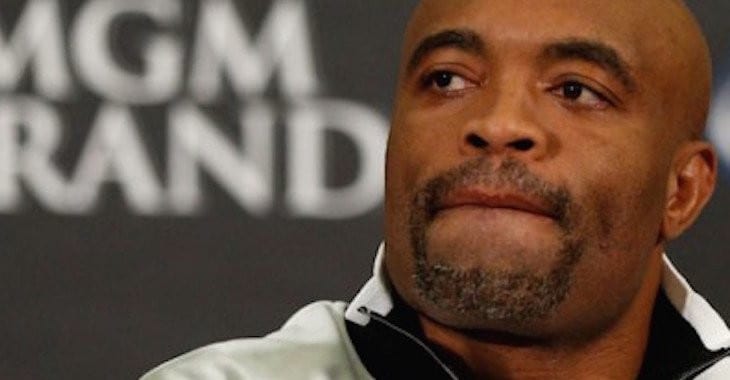 While Anderson Silva might want to fight at UFC 212 in Brazil, that doesn't mean he wants to fight just anyone.
Silva, who was originally scheduled to face Kelvin Gastelum at the event, has found himself without an opponent after the young Gastelum failed a USADA test for marijuana related substances in his system. Since then, plenty of middleweight names have either announced their interest in facing Silva, or have been suggested by the many fans who wish to see Silva remain on the card.
But while Silva does want to fight in his home country, it has to make sense.
At the UFC 212 press conference held today in Rio de Janeiro, Silva was asked about several of the names with whom he's been linked over the past week or so — and according to the man widely regarded to be the greatest of all time in MMA, Luke Rockhold, Vitor Belfort and Uriah Hall all get a nix.
"I'm coming off a win," Silva said, as transcribed by MMAJunkie's Mike Bohn. "I hadn't won a fight in a long time, so there's not really a point in fighting either one of those because they're coming off a loss. It doesn't make sense. It's not going to take me any further, so it makes no sense.
"I'm ready to fight whoever the UFC puts in front of me – whoever it may be. I hope the UFC puts an athlete coming off a win that's going to bring something to my legacy, otherwise it makes no sense."
While Rockhold and Hall may be names easy enough to understand Silva's reluctance, many had pointed to the Belfort rematch as a no brainer. Both men are Brazilian legends, Belfort's next contest is almost certainly to be his last and the two had an impressive rivalry that culminated in one of the most iconic finishes in the sports history.
But, it's actually because of that iconic picture that Silva is reluctant to face his old foe.
"People here are going to interpret here what I say as arrogance," Silva said. "Vitor is coming off a loss, so it makes no sense for me to fight Vitor. It would only be good for Vitor, and not for me. To tell you the truth, if I went in there to fight Vitor and a fluke happened, [it would] erase the last fight; so it's a fight that doesn't make any sense."
There are, however, two names that Silva would be interested in seeing across from him on the billing.
The first is Yoel Romero, who has made repeated calls for a fight with Silva in light of UFC middleweight champion Michael Bisping's booking against the returning Georges St-Pierre.
"It's a fight that would be interesting," Silva said. "It would be a huge challenge, especially because Romero was going to fight for the belt. It would be a great challenge. He's an athlete that has all the qualities to fight for the belt. So let's wait. We'll have to wait for the UFC and see what happens."
The other is that famous Stockton son — Nick Diaz.
Silva and Diaz have met once before, with Silva winning the judges decision. That contest's result was overturned however when Silva failed two drug tests for what he claims was a contaminated sexual aid. And according to Silva, it's the Diaz fight that we could end up seeing.
"It's something that's been talked about," Silva said. "It's possible that it could happen, the fight against Nick. I respect him a lot. I think he's an excellent fighter. It's a fight that would be interesting, a fight that would be pretty cool to watch, and it actually makes sense. It was a no contest, so let's see. Anything can happen.
"Right now I have to wait. I have to wait for the UFC to make a decision on who is my next opponent. I continue to train. My focus is still the same, and I'm waiting."
Comments
comments