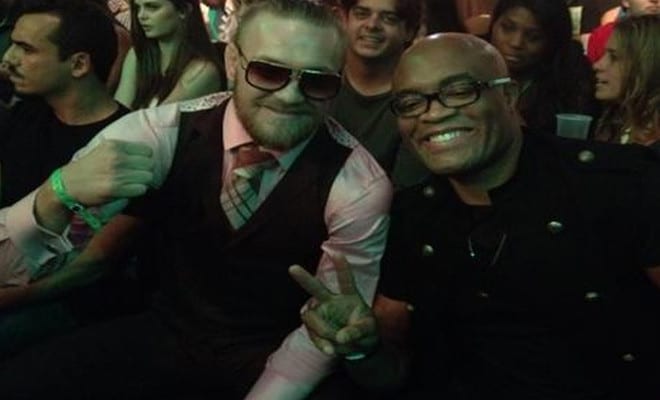 There's been a lot of talk about mixed martial arts G.O.A.T.s recently, and one of the men heavily featured in the conversation just called out one of the others.
A few days ago, Conor McGregor took to Twitter to share his belief that Anderson Silva was the greatest fighter to ever compete in the sport, while he himself was (for now) number two. Eventually, that message reached Silva's ears, and gave the Brazilian icon an idea.
On Wednesday afternoon, Silva took to his own social media to say that he and McGregor should meet in a catchweight of 176.37lb (80kg) in a historic contest.
"I have an immense admiration for the great athlete Conor and I believe that a super fight would be something historic for the sport," Silva wrote. "Neither of us need to prove anything to anyone; I believe UFC and sport fans would like to see this great martial show, testing my martial skills with him would be fantastic!!"
It's not the first time the two have brought up the idea, and indeed both have shown an always respectful interest in meeting each other in the Octagon on numerous occasions.
"The array of finishes, across 2 divisions, with champion status in 1, Anderson Silva is No.1 MMA GOAT," McGregor wrote last week. "My array of finishes, across 3 divisions, with champion status in 2, I'm No.2. If not tied 1. However still active, No.1 is fully secured by career end. And easily."
Silva recently underwent knee surgery, but told MMAFighting he would return for two more fights inside the UFC before he called time on his legendary career.
GOAT THREAD.
The array of finishes, across 2 divisions, with champion status in 1, Anderson Silva is No.1 MMA GOAT.
My array of finishes, across 3 divisions, with champion status in 2, I'm No.2. If not tied 1.
However still active, No.1 is fully secured by career end. And easily.

— Conor McGregor (@TheNotoriousMMA) May 23, 2020
–
Comments
comments