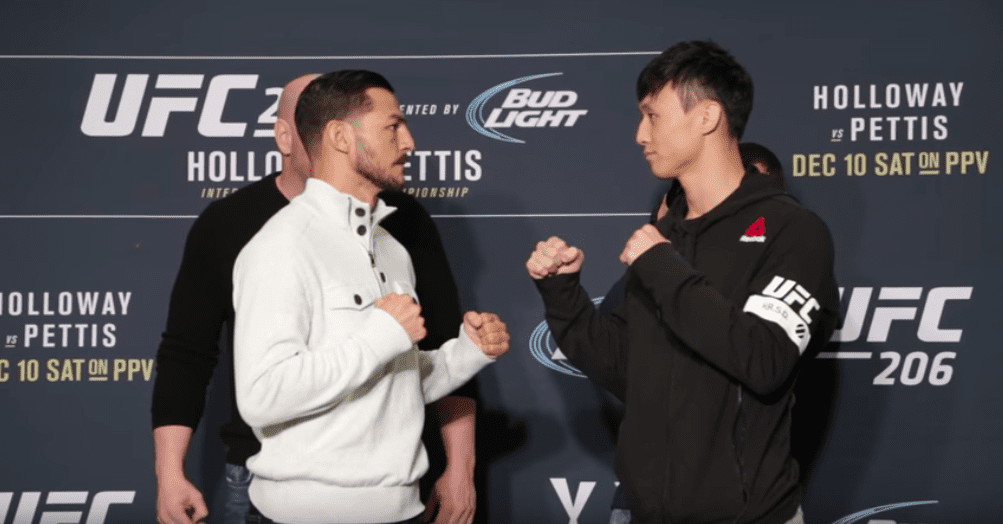 Round of the year? Fight of the year? There aren't many plaudits that weren't applied to the classic brawl between featherweights Cub Swanson and Doo Ho Choi back in December 2016.
The back-and-forth scrap was one of the most exciting fights in recent memory as both men moved forward throwing heavy leather, seemingly with wreck-less abandon for their own personal safety. In the end it was Swanson who had his hand raised after 15 minutes of intense action but it was the type of fight which links both combatants together permanently, and it looks like we may be set for a do-over.
Swanson's victory against Kron Gracie in Tampa last weekend stamped out a four-fight skid dating back to April 2017 and, now that he is back in the win column he suggested to the media that perhaps the time might be right to renew rivalries with Choi, adding that their fight was one of the most important of his career — and the 'Korean Superboy' appears to agree, and he has a date in mind.
"Swanson's recent fight was amazing and he is a fighter that I have always respected," Choi posted to Instagram. "I came across his recent interview that he believes that we need to have a rematch in which we owe to the fans.
"I also strongly feel the same but unfortunately I haven't finished my military duties where it restricts me from flying overseas. Also I understand that he was just fought in UFC Fight Night 161 and that he would need to rest and recover but if him and the UFC can organize a fight in Busan, I guarantee that it will be the craziest fight of 2019!"
Well, luckily for everyone, the UFC does indeed have a fight card scheduled for the South Korean city on December 21 which is to be headlined by another Korean superstar as Chan Sung Jung faces Brian Ortega but the addition of the UFC's other Korean asset would appears to make sense.
Meanwhile, let's remind ourselves as to what they were saying about each other prior to their first fight.
–
Comments
comments