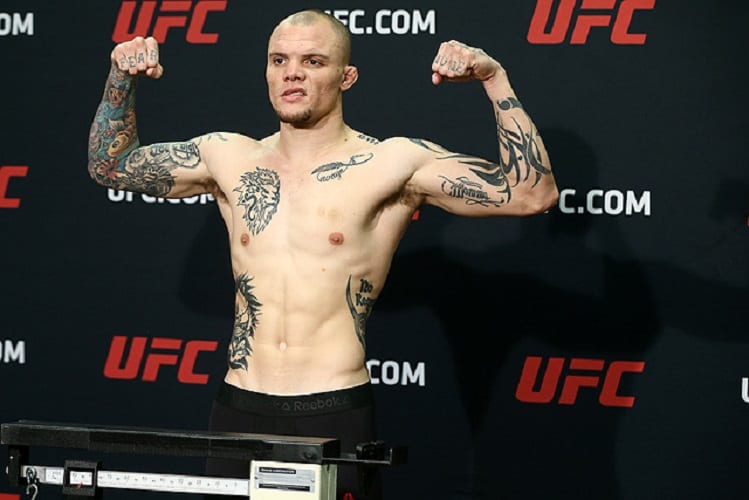 Former UFC light heavyweight title contender Anthony Smith hasn't been seen in the octagon since a June win against Alexander Gustafsson but as he revealed in an interview with Ariel Helwani on EPSN on Monday, even that win was mired by a troublesome hand injury as a result of scar tissue building up over two consecutive surgeries — leading to Smith considering amputation of a finger as a possible fix. 
He says that he was having difficulty in closing a fist — which is obviously detrimental to a professional fighter — which forced him to consider any and all options.
"We were going to amputate my pointer finger, because all the scar tissue was grabbing onto the ligament and not allowing it to close and slide back and forth," Smith said to Helwani "So the idea was if we amputated the finger and screwed those ligaments to that bone after it healed, then I could use the other three fingers and my thumb to grapple. And there would still technically be a knuckle there so I can still punch."
View this post on Instagram

I fought 41 times this decade. I'm on a mission. Yah feel me? #Lionheart #2020
However, luckily for Smith it didn't come to this. An alternative remedy was sought and improvements were noted when he a physical therapist applied electricity to it.
"Once we tore through all the scar tissue that first time, then we just did that every single day until I was able to get the movement back in it, and now it's good," he said. "I've probably been able to close it for probably two months.
"It's as good as it's going to get. My strength and ability to use it is 100 percent, but my hands are messes anyway. I have lots of scar tissue, lots of arthritis. It's sore in the morning and the cold weather in Nebraska doesn't help at all. Once it gets moving, it loosens up and feels all right."
While obviously happy that he still has all ten of his digits, Smith said that he was genuinely close to making the chop
"I was ready to say, 'Screw it all, I'm sick of all this rehab stuff.' I was ready to get back to fighting, and cutting my finger off at that time was the fastest way."
Comments
comments