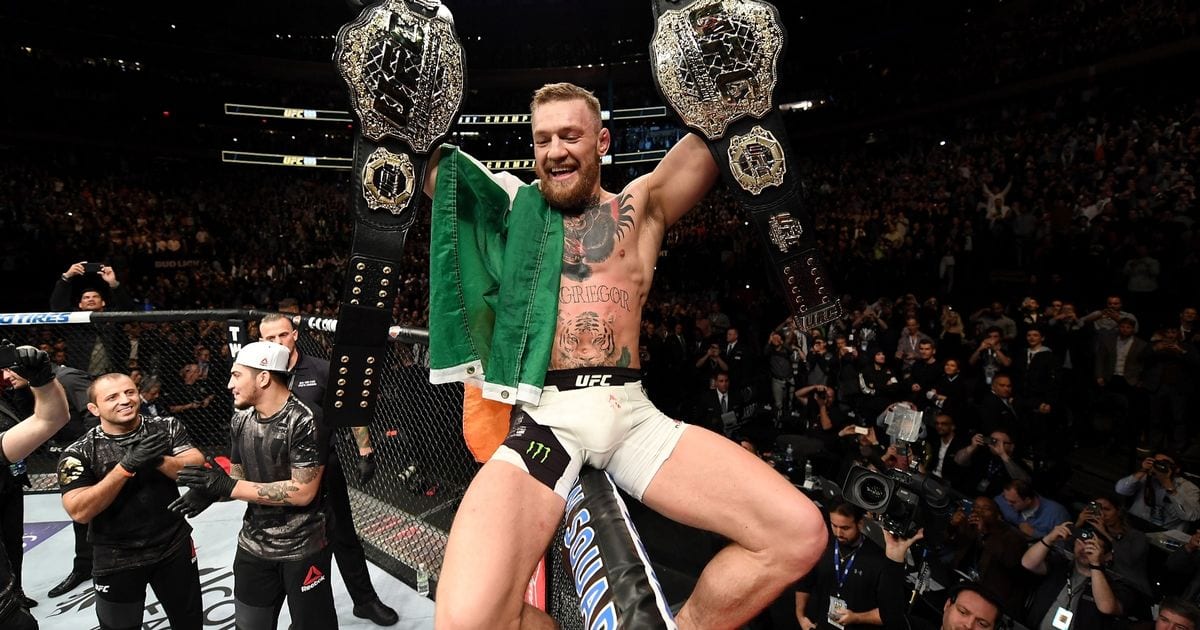 The adulation of your supporters is one thing, but the admiration of your peers is another thing entirely.
Five years ago, Conor McGregor made good on his word and delivered one of the finest performances ever seen in a UFC world title fight when he scythed through then-lightweight champion Eddie Alvarez in the first-ever UFC event inside Madison Square Garden. The win added 155-pound gold to the featherweight world title he captured less than a year prior, and repeated the 'champ champ' status he had achieved in Cage Warriors some years prior.
But it wasn't just the fact that he won, it was the manner in which he did it. From the opening bell McGregor was a beat ahead of Alvarez, the hard-nosed Philadelphian who came into the fight with 28 wins from 32 career bouts, and seemed to flummox him with just about every shot he threw.
#OnThisDay in 2016: @TheNotoriousMMA made history as the Champ Champ in Madison Square Garden! 🏆🏆

📺 Watch more on @UFCFightPass now! pic.twitter.com/uIGwtM2oO5

— UFC Europe (@UFCEurope) November 12, 2021
The damage was quickly visible on Alvarez's face and in his performance, as his own blueprint for how he expected the fight to go melted away before his very eyes.
The first round saw McGregor land several knockdown shots as he timed his opponent's advances with cool cage-savvy, and ended the fight in the second when he launched into a four-punch combo after Alvarez whiffed with an overhand.
The win was expected by McGregor but perhaps not by some members of the mixed martial arts community — but after that round and a half or so, that tune changed and several top fighters took to social media to indicate just how impressed they were by the Dubliner's title-winning performance.
Ireland, we did it! https://t.co/6Xdtbcnwrk

— Coach Kavanagh (@John_Kavanagh) November 13, 2016
YES!!!!!

— Artem Lobov (@RusHammerMMA) November 13, 2016
HOLY SHIT X 2!!!!! Two way world champ!!! @ufc

— Brian Ortega (@BrianTcity) November 13, 2016
omg that was sick by @TheNotoriousMMA

— Rory MacDonald (@rory_macdonald) November 13, 2016
Wow Conor made that look way too easy. Sky is the limit for him

— Matt Brown (@IamTheImmortal) November 13, 2016
Wow all hail the king! @TheNotoriousMMA … Fucking incredible

— Ian McCall (@Unclecreepymma) November 13, 2016
Mad respect to Conor . Dude shows up & smashes! WOW #UFC205

— Derek Brunson (@DerekBrunson) November 13, 2016
Un-be-liev-able… #ufc205

— Siyar Bahadurzada (@Siyarized) November 13, 2016
Congrats @TheNotoriousMMA ! First time in history ! Get this man his second belt !

— Platinum Mike Perry (@PlatinumPerry) November 13, 2016
Hate him or love him….. you can't take it from him. My hat is off to @TheNotoriousMMA

— Brandon Thatch (@RUKUSMMA303) November 13, 2016
Haha the Irish guy looked great. Impressive
YES he get that timing thing

— Junior Dos Santos 🅾️➕ (@junior_cigano) November 13, 2016
. @TheNotoriousMMA is the GOAT. We all just need to accept it. All due respect Anderson and Fedor and Jon Jones. It's just unreal. #UFC205

— Sean O'Connell (@realOCsports) November 13, 2016
I ain't no hater homie that interview was classic!!! Well deserved congrats on making history @TheNotoriousMMA @ufc

— Brian Ortega (@BrianTcity) November 13, 2016
Pretty much how I vision that fight going down!

— Demetrious Johnson (@MightyMouse) November 13, 2016
Can't believe I'm saying this. But I'd be interested in seeing a Conor McGregor vs Floyd Mayweather boxing match 🙈 #UFC205

— Derek Brunson (@DerekBrunson) November 13, 2016
–
Comments
comments