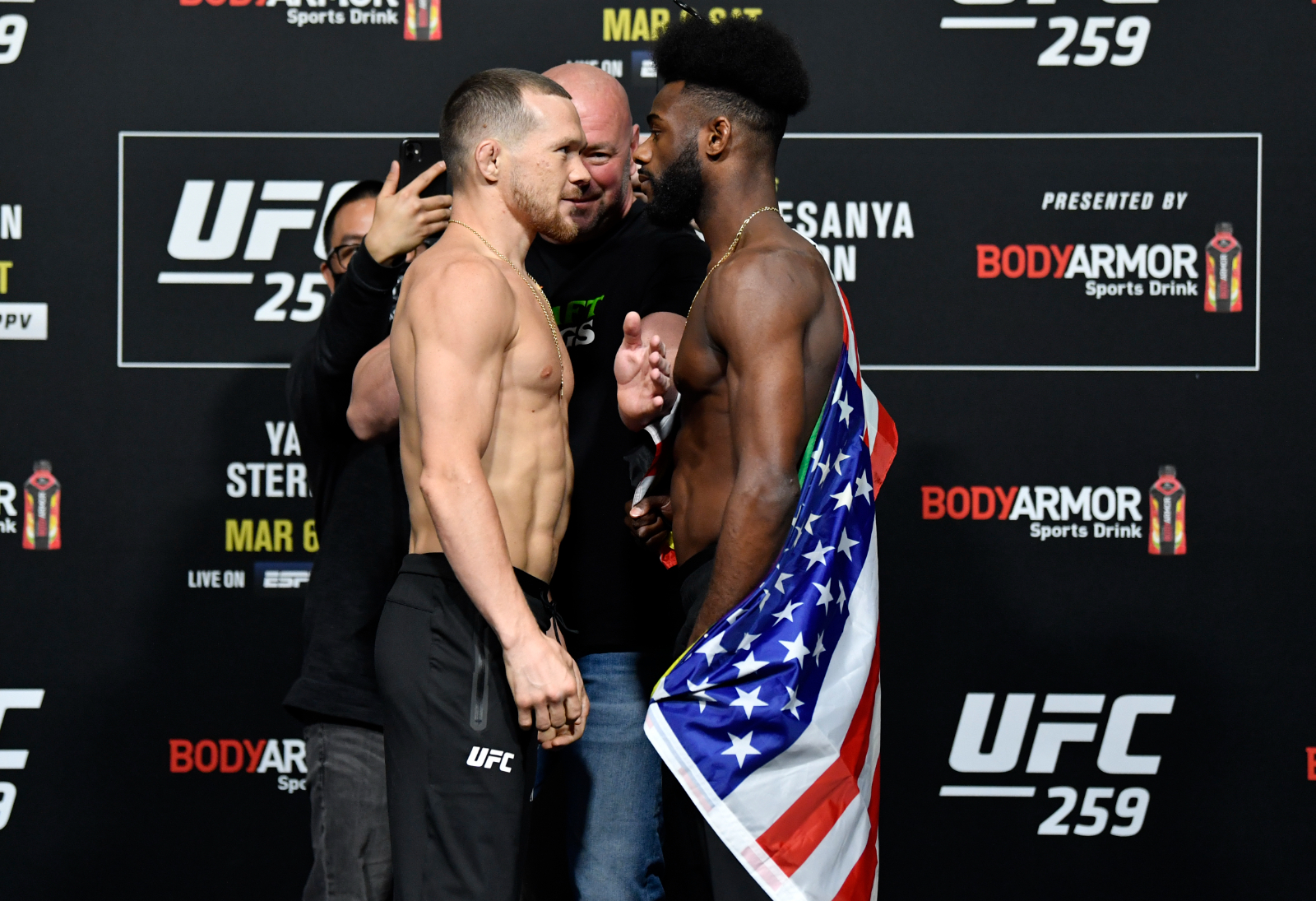 If you were to believe some of the narratives you can see online or on social media Aljamain Sterling is set to travel to Jacksonville next weekend, hand over his title to Petr Yan and whisk himself back to New York to prepare for future challenges.
But Sterling, speaking to MMA Junkie, says that anyone forecasting an easy win for the Russian former champion are off the mark and that he will enter the cage next weekend injury-free for the first time in recent memory — and he expects his performance in the Octagon to raise some eyebrows.
Their first fight was as contentious as it comes. Sterling was ultra-aggressive early, winning at least one of the first couple of rounds before tiring and allowing Yan's style of pressure-fighting to come to the fore. Then came the illegal knee, and 12+ months of insults from Yan.
And now Sterling is licking his lips at his opportunity to correct the record.
"I want people to remember everything that happened in the lead-up to this, from Petr Yan pulling out the very, very first fight we had back in 2020 in December," Sterling said. "December 12 he pulled out for 'personal reasons,' whatever the hell that means. Then, we had our fight. I had a bad day in the office. Having the whole surgery, having to deal with everyone talking sh*t while my hands are literally tied behind my back and I can't do anything.
"Now, we get the opportunity to see who is who. The domination I'm planning on having in this fight, if it goes the way I can believe it will go, I think people are going to use the word legendary. I think it's going to be one of those types of performances where people will look back like, 'Man, after all that sh*t, the fact he came back and did it that way, there's no other word to describe how impressive it was.'"
He continued: "At the end of the day, I don't get anything out of (popularity). I'm in the sport to make money, to cement my name in history amongst the greatest bantamweights of all time, and that's really it. Everything else is just icing on the cake.
"I'm just excited to compete and ready to shut all these critics up and these couch potato professionals and really just stick it to Yan and show him that I am who I say I am."
Comments
comments