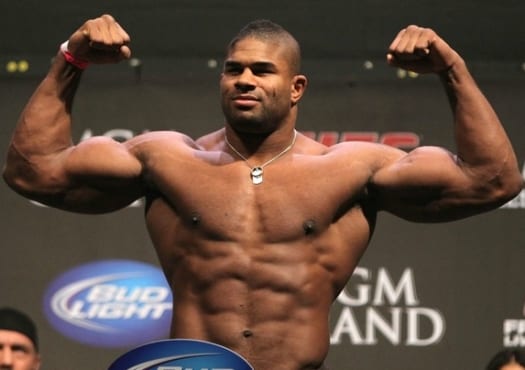 It is clear that Jon Jones' impending move to heavyweight will leave him with no shortage of potential opponents.
The latest big name to welcome a fight with the greatest light heavyweight fighter in history, Alistair Overeem, says that he would be "honoured" to be Jones' first opponent following his recently-announced division switch.
The Dutchman takes on the 15-1-1 Augusto Sakai in Las Vegas this weekend, his latest bout in what has been a remarkable 21-year professional fight career — and he estimates that a win on Saturday could open more doors for him, and maybe even against Jones.
"Yes, I would do it," Overeem said of a potential showdown with Jones. "I think it's a great fight. I would feel honoured."
View this post on Instagram
Jones revealed in recent weeks that he was making the long-touted move to heavyweight after a record-breaking career at 205-pounds, which saw him never suffer a legitimate defeat in his more than 12 years on the roster. Now, though, more robust challenges are expected given that Jones will likely be one of the lighter heavyweights in the division — and Overeem says is more than open to the challenge.
"I think it's a great addition to the heavyweight division," Overeem said. "I'm actually excited. Fresh blood. I've trained with him, he's very capable. He's tough, he's good. So I'm excited about that development."
Jones has also been linked to fights with champion Stipe Miocic and Brock Lesnar, who was recently revealed to be a free agent.
Comments
comments