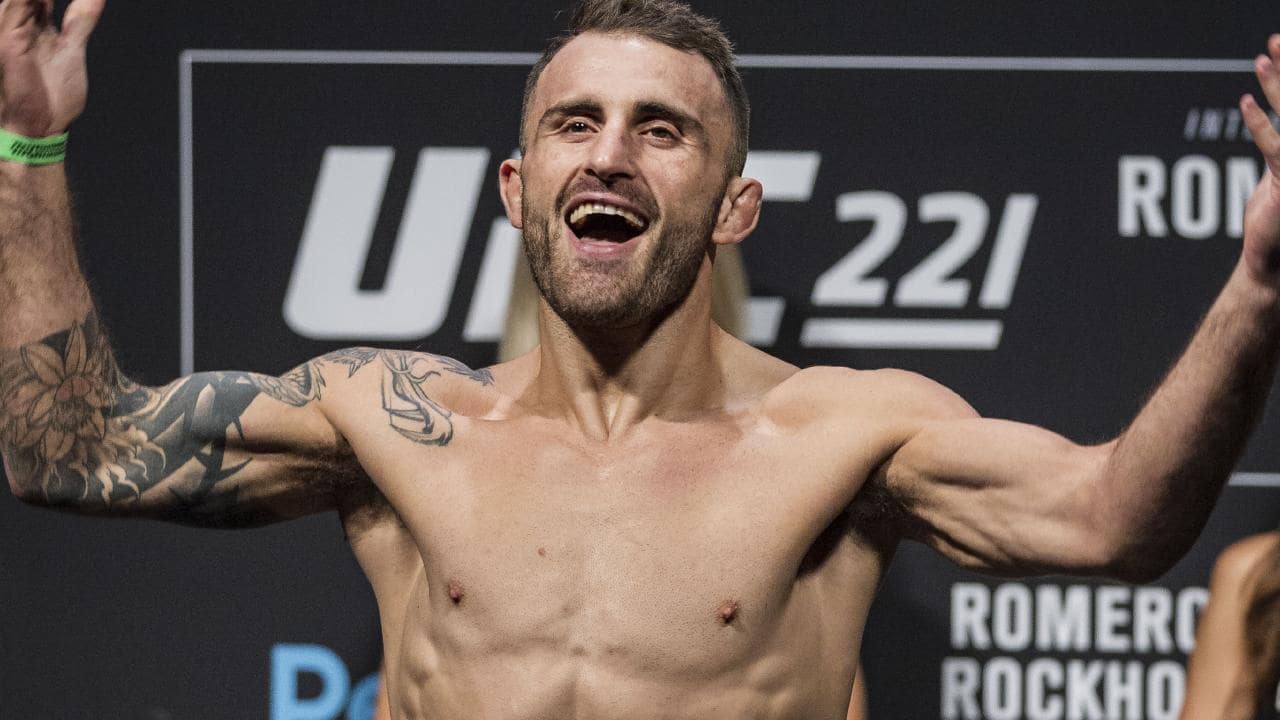 Alexander Volkanovski was supposed to have Brian Ortega in his rear-view mirror by now but a recent Covid diagnosis experienced by the Australian derailed the pair's scheduled fight at UFC 260, prompting Dana White and the UFC to extend their rivalry by several weeks by by pitting them as coaches against one another.
And it is an opportunity which very much excited the UFC featherweight champion.
"It was a little bit of a shock," Volkanovski said to reporter Helen Yee via MMA Fighting. "I was planning on how I was gonna get home, waiting for the negative (COVID) tests and whatnot so I could get home and then literally while that was happening we got wind of the TUF house and were like, 'Alright'. Then before we knew it, it was locked in so I was like, I guess I'm here to stay.
"It's gonna be good fun. I cannot wait to go out there. I love being in front of the camera so four, five weeks, however long it is in front of the camera, it's gonna be good. I'm looking forward to it. It's gonna be good banter. Obviously a lot knowledge and I just can't wait."
The coaching stint comes after Volkanovski detailed the effects of his Covid diagnosis, which required two visits to the emergency room as well as a stay in hospital — but he says that he's more than thankful for the opportunity to take part in the UFC's long-running reality series.
"To be honest, I got wind of it restarting and all that type of stuff and I didn't think too much about it," Volkanovski said. "Obviously while I'm fighting I'm just worried about that and then obviously I had COVID and just worried, 'How do I get home?' and didn't think of it and then literally they just brang it up and I was like, 'Oh man.' It was a complete surprise. I did not expect that.
"You've just got to stay positive through all these things and always look forward and know that it will all work out in the end and that's exactly what happened. So I'm here to stay, I'm gonna enjoy it, and I'm gonna make the most out of this whole process."
Of course, Ortega remains linked to former champ Max Holloway, whom he has defeated twice. Calls for a third fight were issued following Holloway's outstanding performance against Calvin Kattar in January, and Ortega says it is likely inevitable that they meet again.
"Right now, it's not important because I've got to focus on Ortega," Volkanovski said. "I've got to give Ortega the respect that he deserves by knowing that he's in front but at the same time, every time I do an interview I'm obviously getting asked about it, everyone's still talking about it. So everyone will want that fight, that fight will always be there and it's always gonna be a big fight.
"Again, I always says I'm not scared of no one so even though I am 2-0 against him, obviously that last one was a close one and people want to see it again, so I'm sure it will happen. Right now I've got Ortega to worry about and I'm sure once that all happens and the UFC throws some decent money, we can all make some money and we can make that fight happen. But right now, Ortega, I've got you on my mind and that's it."
Comments
comments