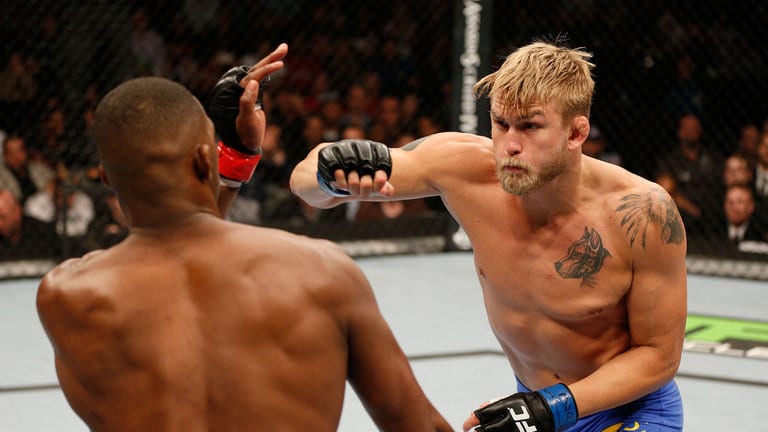 With UFC light heavyweight champion Daniel Cormier set to challenge Stipe Miocic later this year for the organisation's heavyweight championship in pursuit of becoming the UFC's latest two-division titleholder, it would seem that the biggest loser in the scenario is presumptive number one 205-pound contender Alexander Gustafsson.
The Swede, a two-time challenger for the light heavyweight title, put himself in pole position for another crack at the belt with a duo of recent wins against Glover Teixera and Jan Blachowicz. However, he now must consider if he is to sit on the sidelines and await Cormier's return to 205-pounds, or risk his status as the division's top contender by taking another bout in the interim.
Speaking on a recent edition of The Joe Rogan Experience, as reported by MMA Fighting, Gustafsson said that the Miocic/Cormier bout surprised him and that he has doubts if Cormier will ever compete in the light heavyweight division again.
"It does [put the belt in limbo]," said Gustafsson. "I didn't see that superfight coming at all. It's a great fight for them and for the fans and for the sport but for us standing in line, we're just sitting there waiting for an opportunity and it's not gonna come, it's not gonna be there.
"I had my eyes on that gold. I actually counted on fighting DC but then it was all gone by him going up to Stipe. It's a crazy situation. The whole division is crazy right now. We don't even know if he comes back. Who knows what happens in that fight. . . DC s a really good heavyweight so who knows what happens."
One potential outcome for Gustafsson could potentially be a second bout with Jon Jones, a sequel of sorts to their classic match-up in 2013, depending of course on the outcome of Jones' quarrel with USADA.
"I'm telling you, that guy is such a beast," Gustafsson said of his past opponent. "It's so stupid because he's the best guy, pound-for-pound out there. He's done things nobody else has done. He's just a beast and still, s**t just comes up all the time. He doesn't even need that steroid. He doesn't need that s**t in him. He's still the best guy out there."
And if Gustafsson has to wait longer than he would have liked for a shot at Daniel Cormier's belt, he sees a second duel with Jones as being an even higher calling.
"Fighting him and beating him, that's bigger than taking the belt right now, that's how I feel," he said. "Look at what he did to DC. And DC is tough. He finished DC. That's just insane."
Comments
comments