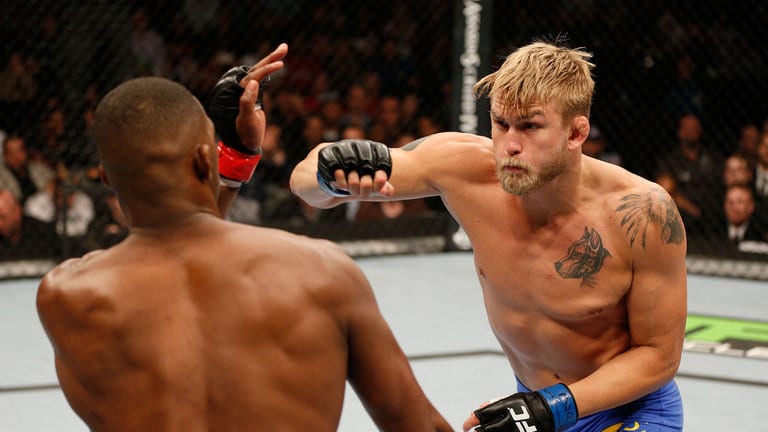 No one really knows what Jon Jones' next move is.
While some are speculating that he could return to an immediate title fight with UFC light heavyweight champion (and long time rival) Daniel Cormier, there have also been suggestions he could take a tune-up fight first in order to shake some cage rust.
Well, if that's the avenue Jones decides to go, Alexander Gustafsson is one man whose willing to be his Huckleberry.
"One-hundred percent," Gustafsson said, speaking with media outlet Champions.co. "One-hundred percent—if Jones wants a welcome party back to the UFC, then I'm happy to do that. Let's see what happens, you know. It's exciting times for the light heavyweight division."
Gustafsson and Jones have a history.
The two of them engaged in an epic twenty-five war at UFC 165 in 2013. It's well known as the first (and virtually only) time Jones has looked beatable in the cage. Ever since his hand was raised on that night, people have clamoured for the rematch.
First though, the Swede has to dispense of Glover Teixeira, whom he faces when the UFC return to Stockholm, Sweden on May 28.
Jones lurking or not, Gustafsson remains focused.
"I'm not even thinking about the title shot right now," Gustafsson said. "I've made that mistake before where people have been looking through my next opponent and the fight that is actually in front of me. They have been looking at the next one, but I don't want to do that.
"I just see myself beating Glover right now and that's my only concern right now. That's the only mission right now and I don't care for the title shot. I'm happy if Jimi [Manuwa] gets the title shot because I think he deserves it. After I beat Glover, then I will look at where I'm at and what is ahead of me."
Comments
comments