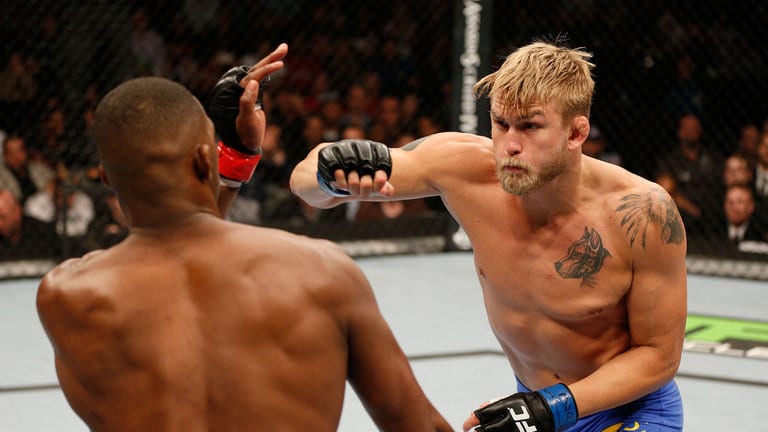 'The Mauler' Alexander Gustafsson is waiting in the wings for a winner to emerge from January's 205-pound title clash between champion Daniel Cormier and Volkan Oezdemir.
The Swede has challenged for the light heavyweight title twice in recent years, losing close decisions to Jon Jones and Daniel Cormier but will hope to make it third time's a charm with another title bout later this year.
In an interview with MMA Latest, Gustafsson gave an update on the state of his shoulder as well as his plans once he's cleared to return to action.
"I have had an injury in my shoulder," he said. "I had a surgery a couple of months back where they put in a titanium plate to keep my collarbone in place. But that plate was taken out last week so I am back to training and slowly but surely getting better with all the rehab. I'm excited to be back in the Octagon soon."
Gustafsson's last Octagon appearance was a Fight of the Night win against Glover Teixera in his native country last May, a performance which he believes has secured his shot at the winner of Cormier vs. Oezdemir.
"If everything goes well with rehab, I'll be back in the octagon in the beginning of the summer – right in time for the next title match!"
A rematch with Cormier remains Gustafsson's preferred option but if Oezdemir is able to claim the title the Swede will immediately switch focus to his fellow European fighter, though he thinks that the champion should have enough about him to see off the Swiss' challenge.
"My prior goal and my only interest is the title fight. If Volkan wins against DC he will probably be my next opponent. It's an exciting matchup – DC is the more experienced fighter and he is a more complete fighter than Volkan. DC has also been in this situation before, Volkan has not."
Comments
comments