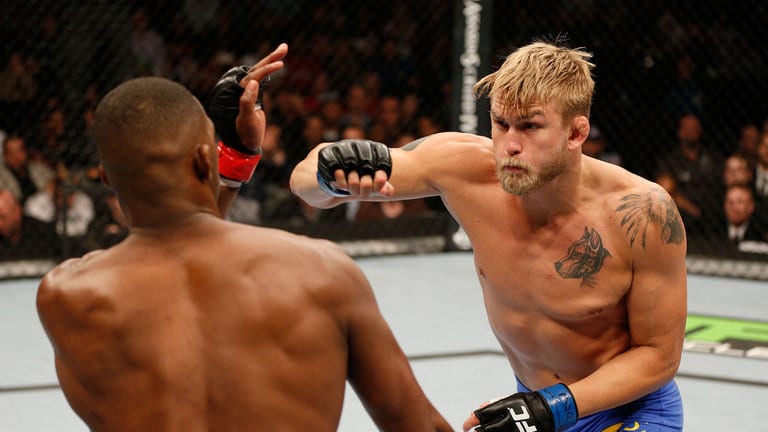 To many of us the upcoming UFC heavyweight title scrap between Stipe Miocic and light heavyweight champ Daniel Cormier is one of the most intriguing heavyweight battles in years.
'Champion vs. Champion' bouts have been somewhat in vogue in recent mixed martial arts history. McGregor vs. Alvarez was one of the most lucrative UFC bouts in history. Before that the showdown between welterweight champion Georges St-Pierre and his lightweight equivalent B.J. Penn was one of the most anticipated fights in both of their respective careers.
Nowadays, along with DC vs. Stipe, we have talk of bouts between champions T.J. Dillashaw and Demetrious Johnson and Cris Cyborg vs. Amanda Nunes to potentially add to the mix. sour
The criticism of this trend of matchmaking is that it essentially ties up two divisions temporarily in the process, leaving a string of contenders sour when it appears their momentum up the ranks is stifled. One such fighter is Alexander Gustafsson. The Swede is the consensus number one fighter in Cormier's division, 205-pounds, and once again healthy after overcoming a troublesome shoulder injury.
The problem is, he's all ready to go and there's not a dance partner in sight.
"I've been a little bit frustrated because I was counting on the DC fight. Me and him fighting for the belt again, that was my plan," Gustafsson said on The MMA Hour via MMA Fighting.
"That was my plan basically, and it didn't end up like that, so it's been a little bit frustrating. I've been injured for awhile too. I got injured not long after the fight I had against Glover [Teixeira], so I'm really motivated. I've been out for awhile and I'm just tired of being out such a long period of time. I just want to be active and I feel the fire and I feel the motivation.
"And now when [Cormier] goes up a weight class, we're just sitting there on the sideline watching everything happen. So I'm a little bit frustrated, a little bit disappointed."
Gustafsson is currently riding a two-fight win streak since losing to Cormier in a world title bout in October 2015 which is actually one of the better streaks among the top ranked fighters at 205-pounds. Plus it would be difficult to argue that the Swede isn't deserving of another shot — his third including interim — at the top prize.
His situation is complicated by the fact that two of his friends and training parters, Ilir Latifi and Jimi Manuwa, occupy two other spots in the top five and all three have gone on record as saying that any potential bouts between them remain off limits, which has led to speculation of a move to heavyweight.
Most of all however, it just seems that Gustafsson is yearning to scratch that competitive itch.
"I'm injury-free, I'm back in full training, and I had a great showing against Glover, but there's so much more of me," Gustafsson added. "I'm here and I'm waiting a good fight, a good opportunity, and that's about it. Let's see what happens. Let's see what the plans are for our division and all of that.
"There is a conversation and that's how much I know now. We're talking to the UFC about it and trying to find a way to solve this, solve this and come back and start competing again."
Comments
comments